All items
eLC's Annual Review and Preview. Farewell 2017. Welcome 2018.
22 December, 2017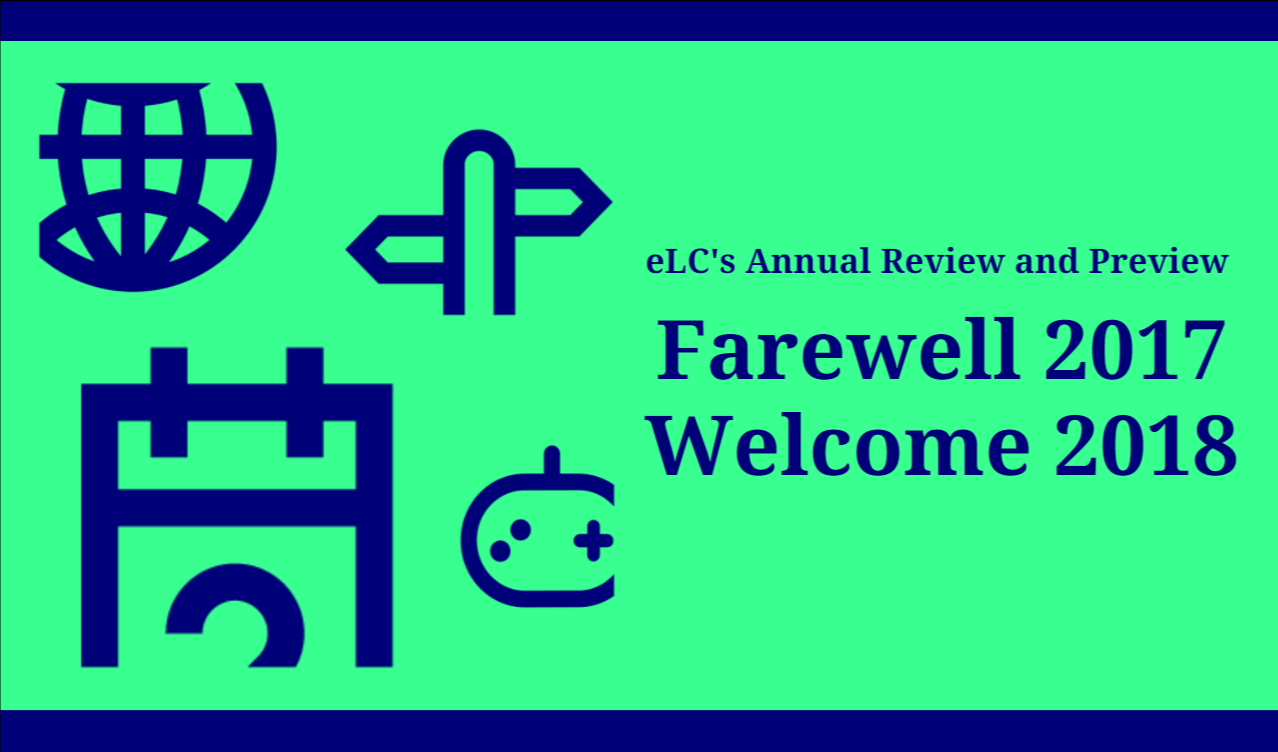 A year finishes and a new one begins. In terms of eLearning, this means that we can overview both year incomes and outcomes. From the eLearn Center, we want to focus on what the different specialized media have said about 2017 trends results and to point out some 2018 eLearning news forecasts. We take the chance to wish a Happy New Year to all our readers and colleagues.
eLC overview of some selected 2017 Trends Forecasts
EDUCAUSE
February 2017
Key Issues in Teaching and Learning 2017
# Emerging Technology, Instructional Design, Learning Analytics, Open Education
Educause highlighted Universities development, economic transformation and digital literacy as some of the main points to have into account during the year. Taking a closer look, we could summarize saying that it was quite accurate. Perhaps we could reorder the ranking and reposition up items such as online and blended teaching and learning (n. 7), working with emerging technologies (n. 11) and (mainly in schools) rethinking learning space design (n. 8), which we have detected as some of the upward trends.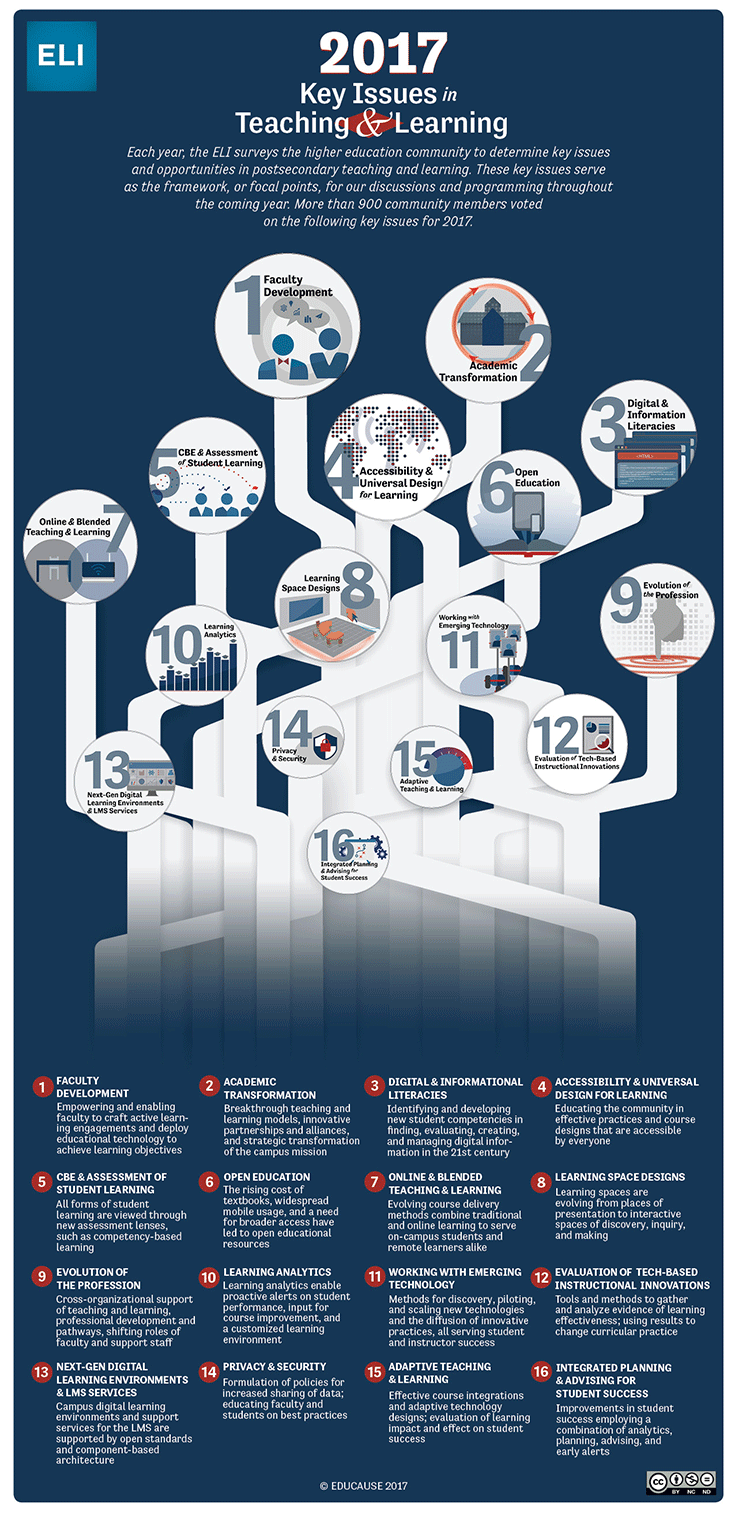 eCampus News
January 2, 2017
14 hot higher ed trends for 2017
# Video, Non-traditional Students, HE Outcomes, AI, Apps, Energy Saving Tech, Competence Based Learning, employability, Badges, Data, LA, Cybersecurity.
eCampus News presented an article asking 14 Higher ed luminaries to look back on 2016 higher ed trends to help predict what was in store for 2017. Some of them put the focus on the employability brought by a good education that will prepare students for the labor market, AI in the corporative Apps, microcredentials and badges, etc.
We can state that some of the stars of this list are the importance of Information Security as an upward trend, employability, Machine Learning and AI in business and the reinvention of Higher Education due to the new societal necessities.
Check Point eLearning
January 2017
# eLearning, Engaging Content, mLearning
Learning Heroes identified six key trends we could expect to see during 2017. These were:
Shorter, sharper content
Focus on results.
Learning on the go.
Lower costs.
Peer-produced content.
Subjects in demand.
We clearly see the accuracy of this 2017 forecast which has into account the importance of the new demands of the companies. They are asking for more efficient workers who can attend to the specifical results needed, completing a transversal skilled profile more than a standard qualified one. The importance of the educational contents was also predicted; we have witnessed the relevance of this in several aspects: cheapening of the content production, engagement and introduction of new tech aspects.
Upside Learning
January 24, 2017
Three Big eLearning trends for 2017
# mLearning, Interactive Videos, Gamification
Upside Learning Blog highlighted three big elearning trends for the past year. These were:
1. Mobile Learning. Or Better Make That Real Mobile Learning
2. Interactive Videos
3. Games & Gamification
All of them, as we have identified, have been some of the most important trends to be predicted. Although mLearning maintains its importance quota -which is predictably an increasing one due to the ease of ubiquitous learning- gamification and interactive videos are directly linked to eLearning and mLearning modalities. As an observation, we must say we miss some more trend detections in this forecast.
2017 Higher Ed reviews selected
Nesta
Predictions 2017: How did we do?
Nesta takes a look back at how their predictions for 2017 have performed. Collaborative problem-solving educational plans for a better economy and a stronger society seems to have worked pretty well and so did the rising of Lifelong learning. Blockchain and the freedom it seems to give to the consumers is also one of the trendy tendencies which seem will have repercussion in the times to come.
Linked In
LinkedIn Top Voices 2017: Education
George Anders highlights in this Linked In article 10 standouts, as measured by the degree to which their articles, short-form posts and videos command other members' interest and respect. Here is the list of the selected people:
1.Heather McGowan. Co-Founder, Work to Learn. She and frequent co-author Chris Shipley write about the ways that rising machine intelligence will compel people to get better at learning and adapt. Skills such as collaboration, communication and creativity will gain primacy.
2.Paul Gordon Brown, PhD. Director of Curriculum, Roompact. He focuses on the impact of social and digital technology on college student development and learning ans is interested in curricular development in student leadership.
3.Dr. Josie Ahlquist. Digital Leadership Speaker, JosieAhlquist.com. Ahlquist surveys the impact of social media in higher education through the lens of empathy and empowerment.
4.Karen Gross. Senior Counsel, Finn Partners Company. She finds there are links between several topics and education, for instance, technology and healthcare. She focuses on student success to educational improvement.
5.Xavier Pavie. Professor, ESSEC Business School. Pavie focuses on innovation in business and education, his articles have touched on the value of learning by doing and the best ways of teaching imagination or social entrepreneurshipship.
6.Shanika Robinson. Student Success Coach, Dallas County Community College District. Robinson talks about resilience and students' path to success. She also chronicles the contributions of African-American women in STEM.
7.Swati Agarwal. General Manager, Social Venture Partners Hyderabad. Agarwal focuses on education, human resources, children's emotions and female empowerment.
8.Jesse Martin. Director, The Academy for the Scholarship of Learning. Martin writes about the science of learning and provides people with ideas about how they can use it in their classrooms.
9.Karl Kapp. Professor of Instructional Technology, Bloomsburg University. He digs into the gamification of learning and professional development.
10.Tom Vander Ark. CEO, Getting Smart. He is specialized in K-12 and talks about project management, personalized learning and the best ways of making high school more effective.
2018 Higher Ed trend previews selected
Gartner
Gartner Top 10 Strategic Technology Trends for 2018
Although this is a list made focusing specifically on Tech Trends, Artificial intelligence, immersive experiences, digital twins, event-thinking and continuous adaptive security create a foundation for the next generation of digital business models and ecosystems but also for education as it is inside the basis of the societal pyramid.
AI Foundation.
Intelligent Apps and Analytics also run by

AI.

Intelligent Things (autonomous objects).
Digital Twins (

digital representation of a real-world entity or system).

Edge computing.

Conversational Platforms.
Immersive Experience:

Augmented Reality

(AR)

, Virtual Reality (VR) and Mixed Reality (MR).

Blockchain

.

Event-Driven business actions

.

Continuous Adaptive Risk and Trust:

Continuous adaptive risk and trust assessment

(CARTA).
e-Learning heroes
Top 5 E-Learning Trends to Watch in 2018
It is interesting to repeat the idea that opens the article about the selected trends: "Most have been trending for years, but I think they're worth watching because of real e-learning pros". So it goes, these are the selected items to watch in 2018 by e-Learning heroes:
User-Generated Content
Interactive Video
Responsive Design
Gamification
Blended Learning
Perhaps they're not the ultimate hype, but we do agree with almost all of them.
Expo eLearning
8 tendencias de eLearning para 2018 (in spanish)
AEFOL and Expo eLearning highlight the next predictable trends:
Chatbots
Machine Learning – Data Learning
Realidad Virtual
Crowdlearning
Micro-Learning
Video Learning
Mobile Learning
Gamificación
And… what about our forecast?
We think we will not be very risky if we dare to foresee these 5 next big educational and technological fields as some of the main important for 2018 to come, but at least we think it will be important during this new year to keep an eye and to apply innovation on them :
Ubiquitous learning (in all its extensions eLearning, mLearning).
Employability and study of the transversal skills (resiliency, problem resolution, entrepreneurship et alii).
New immersive technologies (VR, AR, MR) and its devices applied to learn.
Specialized educational content creation and curation.
Teacher formation and certification.
(Visited 33 times, 1 visits today)