All items
Educational trends
eLC Monthly Recommendation. April 2017.
28 April, 2017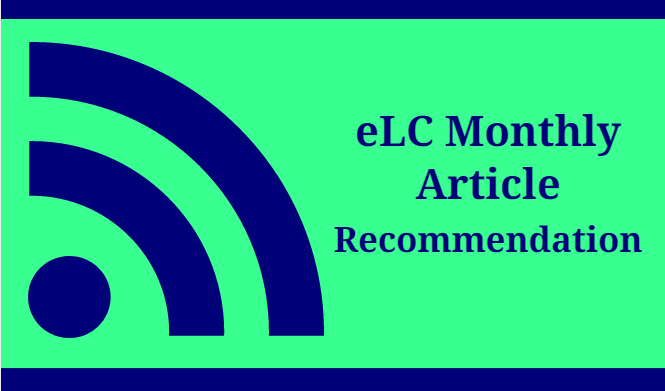 The eLC monthly recommendation is a compilation of several e-Learning and ICT experts articles. This current issue regards to changes in the e-Learning landscape, how automation can keep students on task and the motivations of learners. The experiences of e-Learning world professionals are capital so we include a blog recommendation. With regard to innovation, we highlight a pair of informations about disruption on Digital Learning and trends in EdTech, technological advances for teachers and a final approach to Data Science with articles about Big Data, Data lakes and some Learning Analytics insights.
eLearning trends and innovation
• Sh!ft. Disruptive eLearning, March 30, 2017
eLearning Evolution – The 3 Biggest Changes in 5 Years and How to Adapt to Them for Success
# Learning modules, Video-on-demand, virtual reality, ICT, Adaptive Learning, AI, Microlearning.
• EdSurge, April 14, 2017
George Siemens Asks: Can Mixing Automation and a Human Touch Keep Students 'On Task'?
# HEI, Teacher Feedback, ICT, AI, Communication, Automatation, Personalization,
EdTech, Data.
Instructional Design and Educational skills
• Learn. Show. Repeat. By Matt Guyan February 19, 2017
10 Blogs Every eLearning Professional Should Read
# HEI, New Pedagogies, Paradigm Shift, ICT, Creativity, Teacher Training, Instructional Design, Teacher development.
• eLearning Industry April 4, 2017
Tips And Strategies To Motivate Learners Appropriately
# Engagement, Motivation Strategies, HEI, New Pedagogies, WIIFM, Teacher Training, Instructional Design.
• Josh Bersin. Insights on Corporate Talent, Learning, Leadership, and HR Technology, March 27, 2017
The Disruption of Digital Learning: Ten Things We Have Learned
# Digital Learning, eLearning, Instructional Design, Experience Design, Learning Tools, EdTech, Corporate Training, LMS, X-API, Micro and Macro Learning.
EdTech
• eSchool News, January 2, 2017
# EdTech, Technology, Instructional Design, Educational Tools, eLearning, Digital Collaboration, Employability Skills, Data, Learning Disabilities.
• eLearning Infographics, January 14, 2017
The State of Technology in Education Infographic
# EdTech, Technology, Instructional Design, Educational Tools, State of Technology in Education Report.
• The Edvocate, April 12, 2017
# Course Content, Learning Environment, EdTech, Education Tools, Innovative Teaching, ICT.
Data
• The Evolllution. A Destiny Solutions Illumination. March 16, 2017
Learning Analytics: Coming Out From Behind the Curtains
# Learning Analytics, Big Data, Analytics, EdTech, Digital Behavior, Digital Learning Environements, Learning Research for Higer Education, PII (Personally Identifiable Information) Protection, Data Collection.
• HC Online, April 27, 2017
Big data and the future of learning
# Big Data, Learning Analytics, Smart Data, eLearning, Learning and Development.
• i-SCOOP, 2017
Data lakes and big data analytics: the what, why and how of data lakes
# Big Data, Learning Analytics, Internet of Things, IoT, Data Lakes, Smart Data, Big Data Analytics.
(Visited 15 times, 1 visits today)