All items
The eight e-learning trends for 2022
13 December, 2021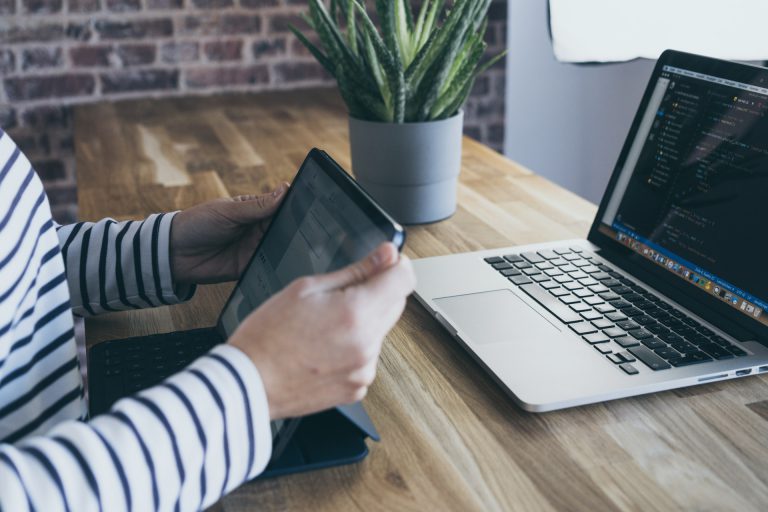 Photo by Lara Far on Unsplash
Nearly two years into the pandemic and after the initial shock of seeing the world's habits turned on their heads, some educational trends for 2022 are headed in the direction they first took months ago. Blended learning, training students in transferable skills to tackle the challenges posed by the new global context, new kinds of credentials and strengthening of the notion of lifelong learning are just some of the aspects that will continue to grow in importance over the coming months. We've put together a list of what could be the top eight trends, drawn up by Guillem Garcia Brustenga and Desirée Gómez Cardosa, members of the specialist trend spotting and observation team of the UOC's eLearn Center, and the centre's director, Sílvia Sivera.
1.- Digitalization of traditional institutions
Sector trends for 2022 point to a continuation in the digitalization efforts that many traditional institutions have had to undertake. "The emergency teaching ushered in by the pandemic required many institutions to take a giant leap towards digital transformation, which posed both structural and technological problems and highlighted the shortage of digital competencies in both students and teaching staff," explained Sílvia Sivera, director of the UOC's eLearn Center. As a result, "institutions around the world have come to the UOC for help in developing online educational programmes based on strategic educational reflection aligned with their models," she added.
Hybrid models are one of the options consolidated in the aftermath of the COVID-19 experience. This is based "on a teaching approach where some people attend in person while others attend online, for example, through videoconferencing," said Sivera. Blended learning is another experience that is on the rise. In this mode of learning, instructors can combine on-site classes with online activities. "Online and on-site learning complement one another and this is planned to be this way in the course design," she explained.
These experiences therefore suppose an increase in the range of e-learning courses and students. According to Eurostat data, 90% of European households have access to the internet from home. In Spain too, nine out of ten households have internet access, according to the latest Eurostat data published in the report Digital economy and society statistics – households and individuals. These data suggest favourable conditions for the growth of e-learning.
2.- Interest in academic and career guidance and student employability
Today's society is facing a series of unforeseen global problems. The workforce was ill-prepared for many of these new difficulties. These problems include the challenges outlined in the Sustainable Development Goals (SDGs), challenges caused in part by the pandemic and the climate change crisis and by recent technological developments.
Today's educational programmes train students not only in the specific competencies of their field of study, but also in transferable skills in order to provide fast and effective responses to future challenges. "The challenge," said Sivera, "is to prepare students for the professions of the future and for entrepreneurship, because higher education institutions want their graduates will find their fit in the job market, and they seek to guarantee both their academic success and their employability." In relation to this process, it is hoped that the rate of technology adoption for facing challenges is accelerated in certain sectors, as stated in the World Economic Forum's The Future of Jobs Report 2020 (2021). According to Guillem Garcia Brustenga, the technologies expected to achieve the highest growth rates in this area are "cloud computing and cybersecurity". In education specifically, "big data analytics and artificial intelligence will also be fast growers," he added.
In the area of employability, the UOC has developed GRAF, a system for assessing the learning of competencies by students over the course of their studies. The system produces a graphic report outlining the competencies developed by the student, which allows them to show and demonstrate their skills in a visual format.
3.- Digital and alternative assessment
One area to undergo changes as a result of the pandemic is assessment. Systems that combine surveillance technologies with biometrics "are revolutionizing assessment systems," said Sivera. Likewise, technologies such as gamification and virtual reality are also being incorporated into assessment systems "for their versatility and the possibilities they offer for analysing the educational process," she added. Inspired by the potential of e-portfolios and personal publishing spaces like social media, virtual desktops and personal blogs, the UOC has created Folio, a pedagogical and technological model for content creation and tutor-supported dissemination of the knowledge and competencies acquired throughout the learning process. Its key features include the assessment of competencies and evidence of learning. It also has connectors that allow content to receive feedback or be added to the assessment record. Other educational strategies of note include peer-to-peer assessment, which offers skills and knowledge-learning to students.
4.- Learning analytics and machine learning (AI) applied to academic risk reduction
Data analytics applied to education using algorithms helps teaching staff to make evidence-based decisions with a view to improving the student learning process. "The end result is that we can help students with their academic performance," said Sivera. This can prove useful and help strengthen the areas where a student shows room for improvement. The UOC's eLearn Center runs the LIS project, which focuses on learning analytics.
5.- New kinds of credentials
Another trend for 2022 is new kinds of credentials. These include micro-credentials and digital certificates to prove the success, competencies and specific knowledge acquired by an individual. "They are online representations of skills and knowledge," explained Sivera. One example of these is digital badges, which include a visual image and are, therefore, "a digital icon akin to certification," she added. Another of their features is that they can be shared on social media and some of them can be verified by blockchain.
6.- Acceleration of studies and flexible enrolment
Pace of study and the possibility that students can set this themselves is another trend. It includes "flat-rate" enrolment and transferable credits. Students are demanding new ways to optimize their learning that fit in with reduced availability for learning. In some cases, this takes the form of fee offers where they can enrol throughout the year. According to Sivera, "there's lots of demand for this option among working professionals and people looking to freshen up their professional profile with lifelong learning."
Lifelong learning has been gaining in reputation and is even being championed as a "human right", as stated in the UNESCO report Embracing a culture of lifelong learning: contribution to the Futures of Education initiative; report; a transdisciplinary expert consultation.
7.- Flexible and personalized bachelor's degrees and adaptive learning
Allowing students greater syllabus flexibility and giving them the option of creating their own pathways based on their own needs or the needs of the job market is also a trend that goes hand in hand with the concept of lifelong learning. At the UOC, bachelor's and open master's degrees are often made more flexible by combining courses from diverse fields of study.
8.- Emerging technologies
Virtual reality (VR), augmented reality (AR), mixed reality (MR), and artificial intelligence (AI) or machine learning are just some of the emerging technologies in education. According to The Future of Jobs Report 2020 cited above (WEF, 2021), 73% of companies surveyed from the digital communications and information technologies sector and 70% of those from the education sector would be willing to embrace AR and VR. According to Desirée Gómez, "education needs to be ready to train these future professionals, so it is vital that we incorporate these new immersive technologies in order to meet demand from the industrial, service, information, and entertainment sectors."
With virtual reality, the user is fully immersed in a virtual world. This means that the technology simulates a complete sensory experience in an artificial environment without the person seeing anything outside of this. In this area, the UOC spin-off Immersium Studio won an Auggie Award 2021 in the Best Healthcare and Wellness Solution category. The award recognized the studio's innovative virtual reality experience, which has been used to provide healthcare skills training to medical professionals in intensive care units (ICUs) during COVID-19.
In augmented reality, the real environment is complemented by virtual objects. In other words, the person sees everything around them but the computer of the eyewear equipment can overlay objects, animations and data on this real environment.
Mixed reality is a blend of virtual and augmented reality. This means that it combines the best of both worlds in a single environment.
Artificial intelligence and machine learning are used in education in the form of chatbots, machine translation systems, and educational risk prediction systems. The UOC has already conducted experiments in this field. For example, it has carried out chatbot tests on some courses. The tool was used to answer teaching queries from students to help them with continuous assessment activities.
Further references from official institutions:
(Visited 124 times, 1 visits today)