General
New UOC colleagues!
03/03/2022
On Thursday 24 February a dozen new members of staff attended an institutional welcome session hosted by the president, Josep A. Planell, together with the general manager, Antoni Cahner.
Want to know who they are? Let's put names to faces!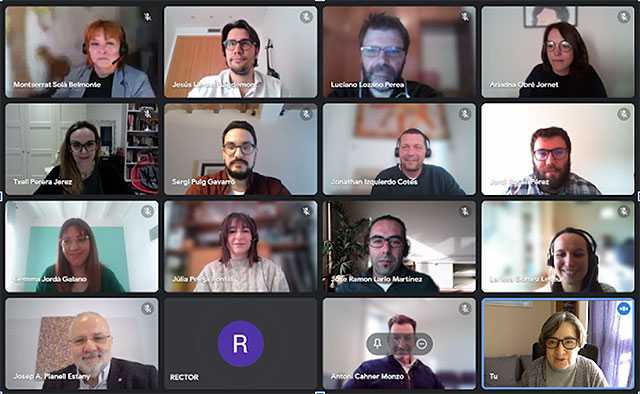 Ariadna Obré (Marketing)
Luciano Lozano (Marketing)
Jesús Llenas (Marketing)
Montse Solà (Contact Centre)
Larissa Gómez (Contact Centre)
Jonathan Izquierdo (Contact Centre)
Sergi Puig (Legal Office)
Júlia Pelejà (Legal Office)
Jordi Rosell (Academic Services)
José Ramon Lario (Technology)
Gemma Jordà (eLearning Innovation Center)
Txell Perera (Professional Guidance and Career Services department)
This meeting is part of the induction programme and takes place once a month to welcome people who have recently joined the UOC with long-term or permanent contracts.
At this meeting, President Planell highlighted the success of the UOC's educational model, how being a privately managed public university allows us to continue growing and hiring new talent, and how COVID-19 has forced us to reconsider many things, including a new way of working.
An explanation of the UOC's mission, business model (prism model and quadruple helix) and its main internal collectives (faculties, research centres and administrative staff) was provided by Antoni Cahner, the General Manager.
After that the floor was opened to for the new members of staff to pose questions, make comments and share impressions.
We welcome you all and wish you every success here at the UOC!
(Visited 2 times, 1 visits today)