Articles
Health
Old Age
Providing help or informal care? The caring role of older adults
27 January, 2022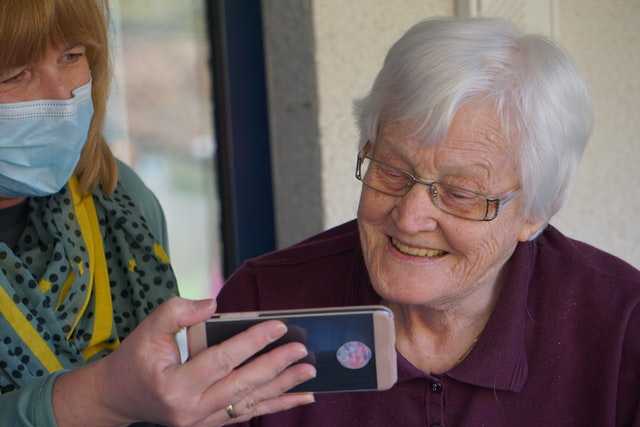 By Madelin Gómez-León, researcher at IN3's Communication Networks and Social Change
Over the last century, one of the most significant changes in the population has been the unprecedented number of individuals reaching ages well into adulthood, meaning that individuals live longer than ever before in human history. This process is called population ageing, with developed countries leading the trend, although there are huge disparities between and within countries.
Population ageing
Population ageing is not merely the increase in older adults, as it is often depicted in the media, but it is also the result of the changes in the proportion of the population in different age groups over time, and particularly very young individuals and older adults. An example of this process is shown in figure 1, with the population pyramid of the Spanish population in 1971 and the projection for 2031. It shows the proportion of individuals in each age group (0 to 100+), separated by men and women. The red line represents the total population in 2031, whereas the blue bars represent the population in 1971.
As this figure shows, in this 60-year period the proportion of infants and young individuals (0-15 years old) will have declined considerably compared to the increase in the proportion of older adults (aged 65+). The result of this process is an increase in life expectancy, with individuals living longer lives and frequently enjoying better health than earlier generations (Mackenbach et. al. 2018).
Population pyramids by sex and age. Spain, 1970 and 2031.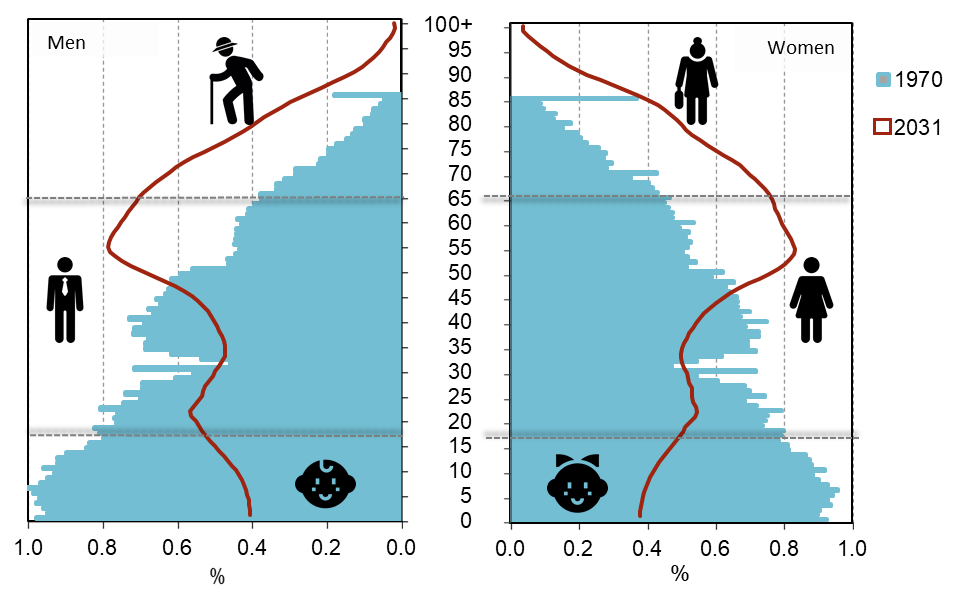 Source: Spanish data obtained from https://www.ine.es/en
Icons designed by https://www.flaticon.es
The population ageing process is usually presented in the media, by politicians and other social agents in terms of its negative consequences and pressures for societies. However, it is a process that also has some advantages and positive effects for the economic and social welfare of individuals and society in general, which are often not considered or sufficiently recognised.
Roles and activities of older adults
Older adults are often seen as dependent individuals in need of care, who have left the labour market and rarely spend time on leisure activities. However, these views are changing as life expectancies continue to increase, health problems decline, and limitations in daily living shift towards older ages, particularly those over 75 years old (Solé-Auró, A., et. al., 2015). This means that individuals in general are reaching older adult ages in a better position to contribute to society and family support, and to enjoy their time in other activities.
Despite the current situation, with reduced mobility and physical distancing due to the COVID-19 crisis, over the past decades older adults have been participating more actively in multiple areas of our society, such as community participation, social gatherings, providing family and social support such as informal care, leisure activities such as travelling and vacations, and paid work.
Informal care and help
Despite usually being considered the recipients of care and support, older adults play an important role in providing care and help with everyday activities, especially for their families. Older adults provide support for both their peers, and for younger generations, such as their grandchildren (Arpino & Gómez-León, 2019).


Help or support provided by older adults is often seen as a duty an older adult has towards their families, and usually takes up most of the time older adults may have for taking care of their own needs or getting involved in other activities. In many countries, a large proportion of grandparents, especially grandmothers, provide care for their grandchildren (Albertini et al., 2007; Bordone et al., 2017).
As seen in Figure 2, more than half of European older adults aged 50 and over provide support, with many of them providing support to grandchildren and a relatively small but significant proportion providing support in multiple roles (6% for men and 11% for women). This role of grandparental care often so intense that it usually surpasses the role of the parents in raising their own children, with the consequences on time limitations and health impairment for the grandparents.
In line with previous studies, a study based on European data shows that caring for grandchildren only reduces the risk of depression among grandmothers, but not among grandfathers (Arpino & Gómez-León, 2019). There is a higher risk of depression among those who provide intensive care to co-residents for both genders. The positive effects of grandchild care on reducing depression observed among grandmothers disappear if they also provide other types of care. Moreover, many adults nearing retirement age stop working due to having to care for their relatives. This is especially common among women (Gómez-León et al, 2019).
Figure 2. Percentage of adults aged 50-84 years old supporting others. European countries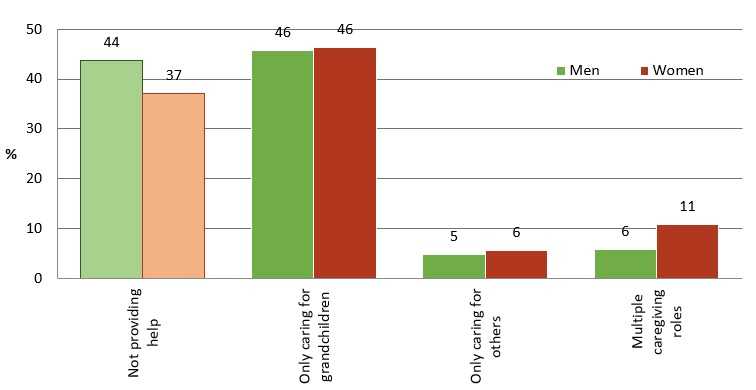 Source: European figures from the SHARE survey, 2004
Changes in perspectives towards caregiving roles
Social norms such as filial obligation and tradition, among other factors, have made this provision of support from older adults a family duty or just a help (Silverstein et al. 2002), rather than a job which is time-consuming and, in many cases, stressful. Families who do not have any relatives they can ask for this kind of help have to pay others to take care of their relatives. This help or provision of care to others is often considered invisible unpaid work, and is starting to be considered as such by statistical institutes when collecting data (e.g. OECD, INE-Spain).
Moreover, this caregiving role has historically had a strong gendered pattern, within which usually mothers, daughters, daughters-in-law and grandmothers care for relatives of different generations. This is still a predominant feature, although men are more involved today than they were in the past, particularly with less intensive or less demanding types of help. Nevertheless, women continue to be the main providers of care, and their involvement is more intense and demanding (Evandrou et al., 2018).
Individuals reaching old age should be considered as active individuals in our society, who engage in activities and work (paid or unpaid) as their circumstances allows them. Many of them frequently (and even daily) provide support for relatives or friends, which often gives them a sense of purpose or happiness, while for others the amount of time and efforts that this support implies may impair their health. Caring for others means they are dedicating time, energy, and resources to doing so. Understanding and recognising these activities is therefore of paramount importance in acknowledging intergenerational transfers in the context of demographic change.
---
References
Albertini, M., Kohli, M., & Vogel, C. (2007). Intergenerational transfers of time and money in European families: Common patterns – different regimes? Journal of European Social Policy, 17(4), 319–334
Arpino, B. & Gómez-León, M (2019): Consequences on depression of combining grandparental childcare with other caregiving roles, Aging & Mental Health, DOI: 10.1080/13607863.2019.1584788
Bordone, V., Arpino, B., & Aassve, A. (2017). Patterns of grandparental childcare across Europe: The role of the policy context and working mothers' need. Ageing & Society, 37(4), 845–873.
Evandrou M, Falkingham J, Gomez-Leon M and Vlachantoni A (2018) Intergenerational flows of support between parents and adult children in Britain. Ageing & Society 38, 321–351.
Gómez-León, M, Evandrou, M, Falkingham, J and Vlachantoni, A (2019) The dynamics of social care and employment in mid-life. Ageing & Society 39, 381-408. https://doi.org/10.1017/S0144686X17000964
Mackenbach, J.P., Valverde, J.R., Artnik, B., Bopp, M., Brønnum-Hansen, H., Deboosere, P., Nusselder, W.J. (2018). Trends in health inequalities in 27 European countries. Proceedings of the National Academy of Sciences of the United States of America, 115(25), 6440-6445. https://doi.org/10.1073/pnas.1800028115
Silverstein, M., Conroy, S. J., Wang, H., Giarrusso, R. and Bengtson, V. L. 2002, Reciprocity in parent–child relations over the adult life course. Journals of Gerontology: Psychological Sciences and Social Sciences, 57B, 1, 3–13.
Solé-Auró, A., Michaud, P-C., Hurd, M., & Crimmins, E.M. (2015). Disease Incidence and Mortality in Older Americans and Europeans. Demography, 52 (2), 593-611. https://doi.org/10.1007/s13524-015-0372-7
(Visited 11 times, 1 visits today)