General
There's still time to collect your UOC calendar and face masks
20/05/2021
As required by the health authorities, face masks are mandatory when on University premises. Remember that each of us has two UOC face masks to collect from the 22@ or Tibidabo.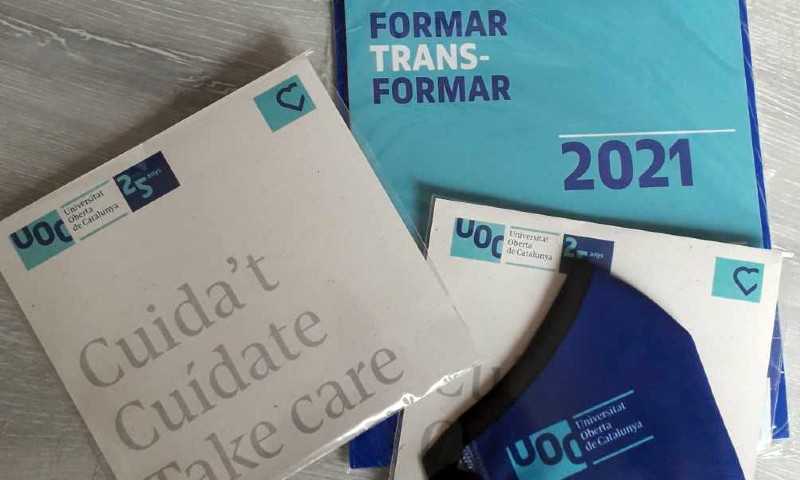 The face masks, which have a bacterial filtration efficiency of 92%, have been made in Barcelona from sustainable and reusable materials and remain effective for up to twenty washes. Furthermore, the ear loops are adjustable and they have a breathability rating of 29 Pa/cm2.
Mandatory COVID-19 training
Learn how to wear your face mask properly and about other preventive measures that must be adhered to in UOC buildings at the mandatory COVID-19 training.
Similarly, before entering UOC premises, you must inform us of any possible symptoms and whether you belong to any vulnerable group, without specifying which one, by means of a statement of compliance. Only the occupational medicine doctor to whom any possible cases will be referred will have access to your medical data.
The 2021 calendar commemorates 25 years of the UOC
Furthermore, you can collect the 25th anniversary desktop calendar, which commemorates the University's history through the thirteen #MomentsUOC images that won the photography competition.
So, remember: if you go to 22@ or Tibidabo, don't forget to collect your two face masks and desktop calendar. You can pick them up at reception between 8 a.m. and 2 p.m.
Related pieces
UOC face masks. Don't go without! [01/03/2021]
How to wear your mask correctly [14/07/2020]
(Visited 2 times, 1 visits today)