All items
AI (Artificial Intelligence) Expo Europe 2018
25 July, 2018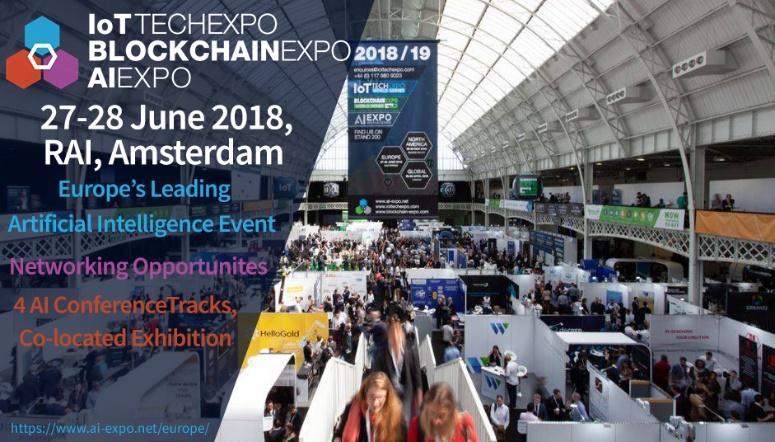 On 27 and 28 June, Amsterdam hosted the AI Expo Europe 2018 conference (https://www.ai-expo.net/europe/). The conference included three simultaneous events: AI Expo, Blockchain Expo and IoT TechExpo, which could be regarded as today's leading, most disruptive technologies and the ones that could have the greatest transformational impact on our society. Figures from the conference show evidence of the interest aroused by these technologies: 18 lectures, 8,000+ participants, 300+ lecturers and 300+ exhibitors.
This post offers a summary of the attendance at a great many of the lectures and a compilation of the principal ideas and highlights of the conference, especially with regard to AI.
We should stress that although it was a technology conference on AI, many of the lectures spoke of non-technological issues, such as ethics, transparency, sustainability, environment, security. Without a doubt, AI transcends technology.
This transcendence is a clear indicator of the huge impact that AI will have on society and, despite being a currently fashionable issue and hype of future trends, it is obvious that this is not a minor issue or a passing fad.
As the UN representative, Irakli Beridze, mentioned in his lecture (which I'll comment on later in this post), the first discussions at the UNGA (United Nations General Assembly) regarding AI were in 2015. In 2017 the UNGA concluded: "Artificial Intelligence is a game changer that can boost development and transform lives in spectacular fashion, but it may also have a dramatic impact on labour markets and, indeed, on global security and the very fabric of societies."
The question also arose regarding… Why do we want AI? And some of the answers it got were pretty interesting too: … to live longer and happier.

What do we understand by AI?
One of the conclusions drawn from the conference is that AI is not just one technology: it's a series of technologies that we could list in rising order of complexity:
RPA (Robotic Process Automation)

: software that mimics human behaviour.

Expert Systems

: computer system that emulates the ability to take the decisions of a human expert.

Virtual agents or chatbots

: software agent that can carry out tasks or services for a person.

Autonomous Systems:

control methods with cognition-enabled robots.

Sensitive AI:

self-aware machines that have human-level intelligence – they are considered by many to be the height of AI creation.
Evidently, we still haven't reached the last state of Sensitive AI (self-aware machines) but some lecturers did point to synthesis of emotion as the new frontier in AI, introducing the concept of AEI (Artificial Emotional Intelligence).
With regard to the subject of virtual agents or chatbots two types were identified:
Task-oriented agents (

declarative

):
Robust and interactive FAQ system.

Questions initiated by the user with pre-set answers and automated menus.

Use NLP (

Natural Language Processing

) but little Machine Learning.

Highly specialized and structured interactions.
Data-driven agents (

conversational

):

Similar conversation to humans, contextualized and personalized based on the user profile and the history of prior conversations and behaviours.

Use NLP and Machine Learning.

Integrated with big data sources.
Chatbot success stories were highlighted, such as the T-Mobile initiative in Austria: a chatbot with 75,000 users and 150,000 questions answered a month: https://www.t-mobile.at/tinka/
In this respect, references and guidelines were given for the roll-out of chatbots, as well as general information about AI, Machine Learning and Deep Learning, which I'm posting here as a reference: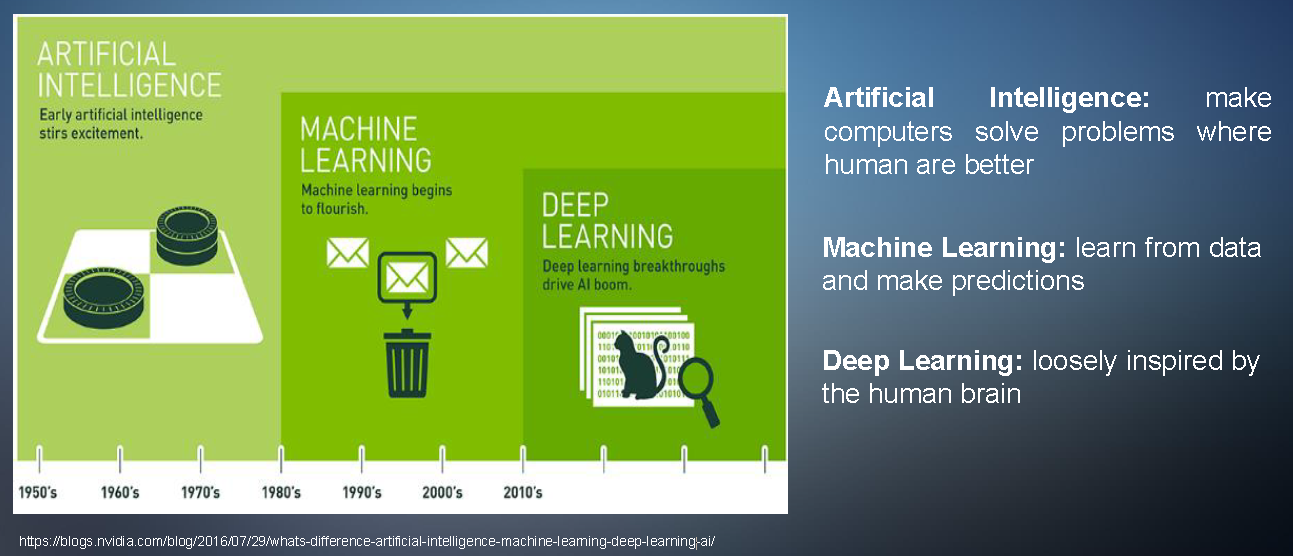 Current state of adoption of AI
Regarding the current state of adoption of AI, according to the CXP Group consultancy (http://cxpgroup.com/) in a survey conducted with 240 European companies of more than 1,000 employees in January 2018, the answers to the question: "Do you have an overall strategy for AI?"
26% under discussion

34% planned within the next 2 years
According to the ASGARD consultancy (http://asgard.vc/global-ai/) :
Europe: 7,500 companies claiming to build AI

USA is the clear world market leader for Artificial Intelligence
China is number two in the world for AI but leader in 2030
According to Accenture: "38% revenue boost estimated over the next 5 years for those fully committing to AI and investing in human-machine collaboration". Accenture reworking the revolution, Jan 2018 ( https://www.accenture.com/us-en/company-reworking-the-revolution-future-workforce )
The role of Europe in AI was discussed, and Europe's current fragmentation in this area was highlighted, with some lines of action being proposed:
We need more visionary capital for AI
We need a European AI Strategy
Lecture by the United Nations representative
Of note was the lecture given by the United Nations representative, Irakli Beridze, from the Centre for Artificial Intelligence and Robotics, UNICRI: "Maximizing the Chances of Global Prosperity – Artificial Intelligence to Transform our World"
He started from some very positive premises: "we are richer, we are smarter and we are connected", and he made some interesting statements:
"AI is potentially the most powerful technology we have ever created"
Unprecedented opportunities to accelerate solutions for "unsolvable" problems
He spoke of the UN's 17 sustainable development goals with 169 targets and 230 indicators for transforming the world by 2030:
No poverty

Zero hunger

Good health and well-being

Quality education

Gender equality

Clean water and sanitation

Affordable and clean energy

Decent work and economic growth

Industry innovation and infrastructure

Reduced inequalities

Sustainable cities and communities

Responsible consumption and production

Climate action

Life below water

Life on land

Peace, justice and strong institutions

Partnerships for the goals

He stated that the USA currently leads the way in AI with over 10 billion euros in investments in Venture Capital, and that China is predicted to become leader by 2030 thanks to the impetus of programmes such as the "Next Generation Artificial Intelligence Development Plan – World Leader by 2030".
You can see the details of the plan via this link:
http://www.chinaembassy-fi.org/eng/kxjs/P020171025789108009001.pdf
Irakli Beridze presented the aims of the UNICRI centre regarding AI and robotics:
Implementation of educational programs (global module)

Mitigating the Effects of AI-induced Automation on Social Stability in Developing Countries & Transition Economies
Opportunities and Risks of Artificial Intelligence and Robotics for Law Enforcement (UN-Interpol)

AI policy and AI Governance
He set out the principal contributions and benefits of AI in the 17 sustainable development goals, of which I'll highlight the first four:
Goal 1 – No poverty:
AI can map poverty from space- enabling real time resource allocation.

"By 2030, eradicate extreme poverty for all people everywhere".
Goal 2 – Zero hunger:
AI and predictive analytics can increase agricultural productivity.

"By 2030, end hunger and ensure access by all people to safe, nutritious and sufficient food for all year round".
Goal 3- Good health and well-being:
AI can analyse large quantities of healthcare data leading to scientific breakthroughs.

Analyse trends, make projections about disease outbreaks to eradicate disease and reduce mortality rates.
"By 2030, end of epidemics of AIDS, tuberculosis, malaria, and neglected tropical diseases and combat hepatitis, water-borne diseases and other communicable diseases".
Goal 4- Quality Education:
AI can revolutionize classrooms providing virtual mentors.

Analyse patterns of student learning and prescribe individual learning plans to improve results.

"By 2030, ensure that all girls and boys complete free, equitable and quality primary and secondary education leading to relevant and effective learning outcomes".
He also set out the risks posed by AI, just as any tool does, if it is misused.
AI Enhanced Technological Unemployment

AI Enhanced Crime
Lethal Autonomous Weapons Systems
Superintelligence. Existential Risk
He also warned of the major problem posed by AI, namely Global Governance (rules, policies, institutions, incentives and checks), ending with a question and answer session:
Can the current system do the job?
Let's hope so.
(Visited 22 times, 1 visits today)