General
Welcome new members of UOC staff
11/03/2021
As you are aware, this year we've been running our institutional welcome sessions online. In previous years, these sessions for new recruits on long-term or open-ended contracts have been conducted on site.
The latest institutional welcome session took place on 24 February, and was attended by the President, Josep A. Planell, the Executive Board, and 15 new members of staff.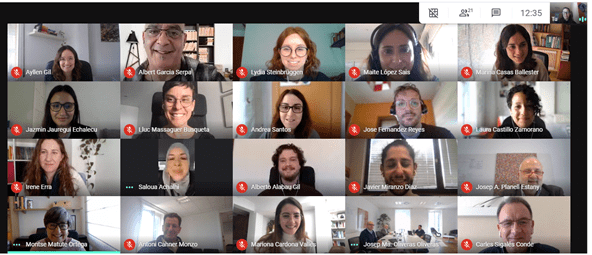 Mariona Cardona Valles (Faculty of Law and Political Science)
Lluc Massaguer Busqueta (Faculty of Information and Communication Sciences)
Ayllen Gil Seaton (Faculty of Law and Political Science)
Javier Miranzo Díaz (Faculty of Law and Political Science)
Marina Casas Ballester (Academic Record Development)
Lydia Steinbrüggen (Academic Services)
Laura Castillo Zamorano (Marketing department)
Alberto Alabau Gil (Planning and Quality department)
Maite López Sais (Contact Centre)
Irene Erra Andreu (Contact Centre)
Albert Dario García Serpa (Contact Centre)
Saloua Achalhi El Harchaoui (Contact Centre)
Jose Fernández Reyes (Contact Centre)
Andrea Santos Risa (Contact Centre)
Jazmin Jauregui Echalecu (Contact Centre)
At this meeting, which is held once a month, President Planell highlighted the success of the UOC's educational model, how being a privately managed public university allows us to continue growing and hiring new talent, and how COVID-19 has forced us to reconsider many things, including a new way of working.
General Manager Cahner discussed the UOC's structure and mission, while Carles Sigalés, Vice President for Teaching and Learning, talked about the teaching role and profile of our teaching staff.
We welcome you all and wish you every success here at the UOC!
(Visited 2 times, 1 visits today)