General
Join in whichever Christmas contests you like!
01/12/2021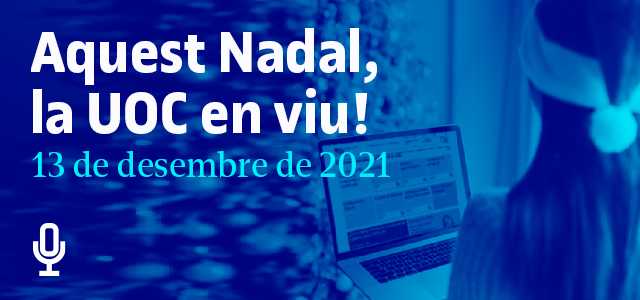 As you know, we're gearing up for our third La UOC en viu! The Christmas special will be another live event in which you and UOC colleagues can again be the stars of the show.
In this form [CA] [ES] you'll find details of the contests. Spread the word and start preparing! You can take part in all of them or just a few, whatever you like. You have until 9 December to enter.
This time the theme will be solidarity and tidings of goodwill. If you've done any volunteering, we want to hear about it! We want to find out more about solidarity in the UOC staff community.
Naturally enough, the upcoming event will feature plenty of Christmas cheer. Have you ever received a present for which you have absolutely no place or use? Tell us about it! And send us videos of you singing Christmas carols, solo or with friends, family or colleagues. Tell us what what's on your wish list, both for presents and for the new year. And share your recipes to stay healthy over the holidays.
We haven't forgotten about the kids, there's a section for them too. We want to hear about some of their mischief, as well as their artistic talents, either singing carols, or drawing or crafting other types of Christmas creations.
Send us your videos, photos or audio messages via WhatsApp to 676375766. We'll pick the top submission in each of the categories, and the winners will each take home a prize!
Join the UOC live this Christmas! This month's event will be live online on Monday 13 December, first at 12 noon and then again at 4 p.m. (CET).
We look forward to seeing you there!
(Visited 1 times, 1 visits today)