General
General manager hosts second welcome session for new staff members
17/12/2021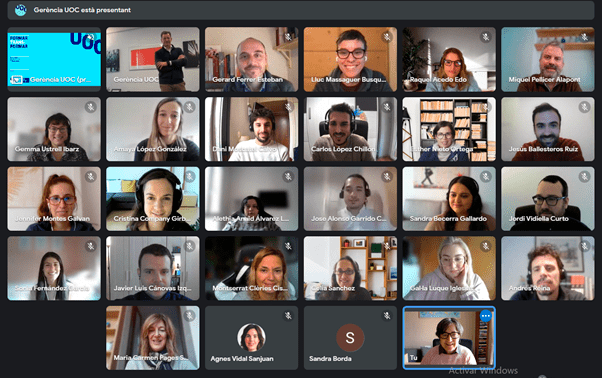 On 25 November, a second online meeting took place between the new staff members and Antoni Cahner, the UOC's general manager. This institutional session was held as part of the Welcome Programme and was intended to give the new staffers a warm welcome and offer them an overview of the institution.
Onboarding new staff members at the UOC is a several-step journey that immerses them in the University so that they can see who we are and how we work. This begins with the selection process carried out by supervisors and the human resources business partner (HRBP). Once hired, new staff are provided with guidance by their welcome tutor and colleagues. This is also when the first institutional welcome session with the president, Josep A. Planell, takes place. In the final step of this journey, the general manager holds his own institutional welcome session.
José Miguel de la Dehesa, director of the Personnel, opened the meeting and outlined what the welcome journey entails and to invite the attendees to pick an open course to take for free to acquire some first-hand experience with the UOC's learning model.
The general manager then gave a presentation focused on the importance that the University places on promoting talent, and generating and connecting knowledge.
The new staff members in attendance also had the chance to hear about the UOC's 25 years' experience in quality online learning, the Canvas model which will boost our competitiveness and sustainability, and our unique internationally accredited educational model.
The session also served as an opportunity to delve into the UOC's global and social impact, which we achieve through partnerships and network collaboration, and our experience in the knowledge society, where transdisciplinary research is a key activity.
The general manager's talk ended with an analysis of the organization's financial solvency, the new business models in place to ensure sustainability, and the new Strategic Plan.
The meeting wrapped up with a Q&A session so that the new staff members could ask the general manager questions and make proposals, either about their daily work or the UOC's road map.
So, with that said, we would like to extend a warm welcome to Raquel Acedo, Cristina Mumbardó, Lluc Massaguer, Sonia Fernández, Cristina Company, Sandra Becerra, Belén Jiménez, Carme Pagés, Celia Sanchez, Alethia Álvarez, José Alonso Garrido, Javier Luis Cánovas, Andrea Rosales, Miquel Pellicer, Amaya López, Carmen Cordero, Esther Nieto, Jesús Ballesteros, Montse Clèries, Jordi Vidiella, Daniel Moscatel, Gal·la Luque, Carlos López, Jennifer Montes, Cristina Medina, Andrés Reina and Gerard Ferrer!
(Visited 2 times, 1 visits today)