All items
Digital transformation and projects
The pandemic accelerates the process towards digitalization of educational institutions
3 February, 2022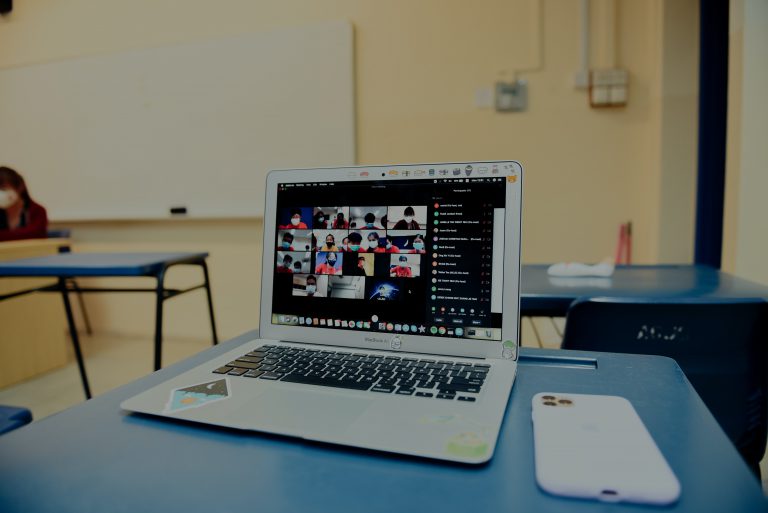 Photo by Lucas Law on Unsplash
The Universitat Oberta de Catalunya, through its eLearning Innovation Center, has supported Ecuador's Catholic University of Cuenca in the training of its teachers
The COVID-19 pandemic has brought to the fore the need for institutions to undergo a digital transformation – to a greater or lesser extent – and the importance of this transformation. The pandemic hasn't caused the transformation, per se: it has merely highlighted the acceleration of the digitalization process.
One of the fields in which such digitalization has been most necessary is in education, an area in which educational institutions have had to adapt to a new sudden and unexpected situation, in which overnight students demand the ability to continue with their lessons and learning either online or as blended learning.
As teachers play a key role in digital transformation, educational institutions have focused on training their staff, giving them the necessary training to help bring about this change.
The Universitat Oberta de Catalunya (UOC), through the eLearning Innovation Center (eLinC), its eLearning innovation and training centre, has recently trained 200 teachers at Ecuador's Catholic University of Cuenca (UCACUE), helping them acquire content creation and techno-pedagogical design strategies with two "rapid intervention kits".
Digital transformation for teachers: rapid intervention kits
The eLinC advised 200 teachers at this Ecuadorian university on self-creation of content and techno-pedagogical design to transform courses into a truly online format. They did so as part of an advisory programme that is based on the educational model defined by the institution itself. The teachers worked on a variety of aspects asynchronously and with the support of an expert in the area, covering topics ranging from the self-creation of digital content to the techno-pedagogical design required to implement it in virtual or in-person classrooms.
"In any process aimed at the digital transformation of an institution, it's of vital importance that all professionals train and adapt to find solutions to changes. In the case of UCACUE, the need to support a large number of teachers in the digital transformation of their courses was identified during the advice process in relation to two key areas: the creation of digital content on the one hand, and techno-pedagogical design on the other," explained Tamara Martínez Vílchez, project manager at eLinC. "The result was very good: teachers were able to put the knowledge acquired in both courses into practice immediately, and they said that students had been very happy with the new proposals for content design and use of technology in both face-to-face and virtual classrooms," said Martínez.
The importance of giving teachers digital skills training and their role in the digitalization process was stressed by those at UCACUE: "What teachers teaching online have to understand is that their role isn't merely to convey knowledge: it's composed of many other elements, which can be made easier by those technologies," explained Pablo Cisneros Quintanilla, head of the Jefatura de Otras Modalidades de Estudio (Department of Other Learning Formats) at the Ecuadorian university. "The main change is that, in online teaching, teachers play a different role. The focus is on the teacher as film director rather than as an actor in that film." Cisneros also added that "The challenge is to include all the educational, psychological and teaching aspects, as well as the technology aspect, to provide a quality education system, bearing in mind that, not long from now, we aim to have professionals who have graduated from fully online courses. We want to ensure that, when they start looking for work, these professionals will be equipped not just with knowledge but also with other kinds of competencies, values, abilities, habits, that will enable them to practise their chosen profession as provided and required by the Ecuadorian Constitution."

Towards quality online education
The UOC's eLearning Innovation Center provides support to educational institutions that have decided to pursue the online education option, while ensuring they can safeguard quality. UCACUE is one such institution that is currently immersed in its own digitalization.
The Ecuadorian university embarked on its digital transformation journey in 1989 with the design of its first blended learning project, professionalizing teachers in the Ecuadorian Amazon rainforest who didn't have professional qualifications. This was its first step towards an institutional commitment to online education – understood as the possibility for education to democratize higher education; this commitment was strengthened by the creation of the Department of Other Learning Formats, led by Pablo Cisneros Quintanilla, in 2019.
The support provided by the UOC to UCACUE was based on a preliminary institutional strategic reflection defining the online training model, the organizational model on which this must be based and the service model that can be developed by the institution in accordance with a new model. "The strategic partnership we are successfully building between the Catholic University of Cuenca and the Universitat Oberta de Catalunya will enable us to gradually fulfil all those dreams, achieve those goals and, of course, face those challenges," said Cisneros.
The UOC, a pioneer in e-learning and digital transformation in education
The Universitat Oberta de Catalunya was the world's first ever fully online university, and for over 25 years it has been using its quality-driven methodology to open the door to lifelong learning.
With more than 20 groups researching e-learning and its very own eLearning Innovation Center (eLinC), the UOC has been able to provide numerous universities, quality agencies and governments with advice and guidance for the designs of their online education systems, thus making itself a leader in the field of digital transformation in education.
Further details: Committed to the digital transformation of education #UOC4LearningEvolution.
(Visited 42 times, 1 visits today)