Sin categoría
Men in Movement V. Masculinities and Feasible Futures
30 September, 2021
International Conference
September 29th to October 1st, 2021
BARCELONA
Current times demand that we focus on the present and rethink about the future and its conditions of feasibility. When we started designing this fifth edition of "Men in Movement", we wanted to address the challenges posed by the connection between men and masculinities and current issues such as nationalism, the environment, bodies and sexualities and decolonisation. We had no idea, then, that a global pandemics would make thinking about our futures even more urgent.
This fifth edition of the international conference Men in Movement will be celebrated in Barcelona from September 29th to October 1st, 2021, with the title "MIM V: Masculinities and Feasible Futures". This title opens the room for scholarly and socially engaged dialogues concerned with the feasibility of the society in which we currently live and the kind of futures that it prefigures.
The PROGRAMME includes five dialogues between two invited speakers to open up the general discussion.
The 'Masculinity in times of change' online symposium (20-22 September) organized by MASCNET is an associated activity to the Men in Movement Conference.
The Conference is structured around five different key themes:
masculinities today
men, masculinities and nation
men, masculinities and the environment
the body, masculinities and sexualities
critical decolonial masculinities
This edition has been possible thanks to Instituto de la Mujer and Universitat Oberta de Catalunya. The event also counts with the collaboration of the Centre for Contemporary Culture of Barcelona (CCCB), the Masculinity, Sex and Popular Culture Research Network (Mascnet, Arts and Humanitites Research Council, GB), the University of Barcelona, Homes Igualitaris -Ahige Catalunya, and the research group 'MEDUSA: Genders in Transition. Masculinities, Affects, Bodies, and Technoscience' (UOC). This collaborative and plural nature is reflected in the structure of the event.
One of our core values is to provide a space for dialogue and debate between academia and activism; we also aim to impulse bridging collaborations. Researchers, activists, social workers, other professionals, consultants, students and people interested in gender justice, social issues, gender and masculinities are most welcome.
We know these are uncertain times and there is the risk that this conference is affected by the current pandemics. We will follow government recommendations and health regulations to ensure everybody's wellbeing and will eventually let you know if any changes are necessary.
We are looking forward to meeting you in Barcelona!
— We will offer attendees simultaneous translation of the 5 dialogues and the final roundtable. Sessions on 30th September and 1st October will be broadcast live via streaming (except the activity 'Dancing with Masculinities').
Broadcast link: https://www.streamingbarcelona.com/plataforma/meninmovement/

— Registration is open!
---
Organizing Committee:
– Begonya Enguix (Estudis d'Arts i Humanitats, UOC)
– Paco Abril (Homes Igualitaris, UdG)
– Krizia Nardini (UOC)
– Alexandre Pichel Vázquez (Estudis d'Arts i Humanitats, UOC)
Organization:
– Universitat Oberta de Catalunya, UOC
– Homes Igualitaris (AHIGE-CATALUNYA)
– MEDUSA Gèneres en transició (Research Group)
With support of:
– Instituto de la Mujer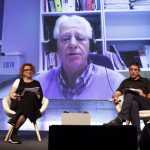 (Visited 11 times, 1 visits today)