SEMINARIO WEB
TURISMO
Accessibility and Inclusive Tourism in the Wake of the COVID-19 Pandemic
3 octubre, 2022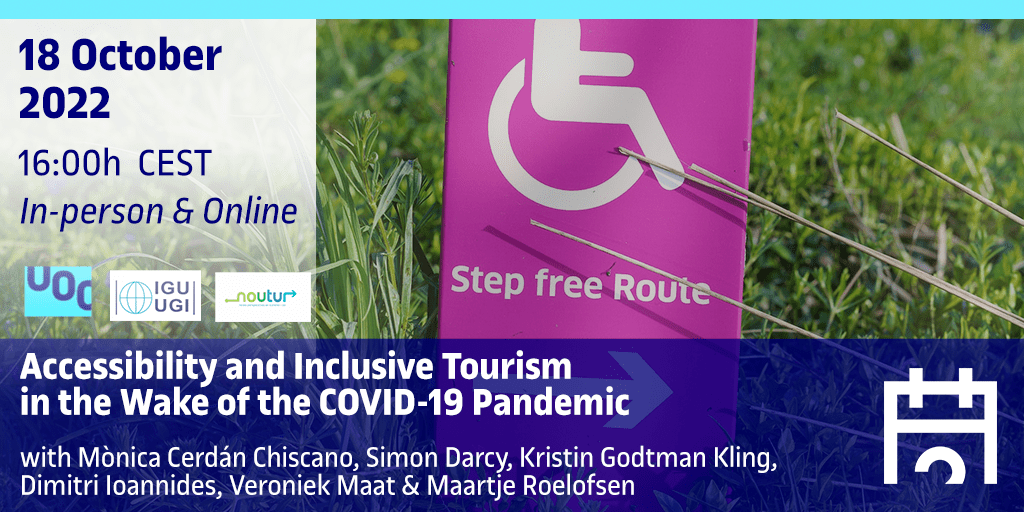 This hybrid seminar brings together scholars and professionals in the field of accessible and inclusive tourism. Presenters will talk about their research and professional involvement in this field. After the presentations, the seminar will reflect on the impact of the COVID-19 pandemic on both the practice and understanding of accessible and inclusive tourism.
The seminar addresses a wide variety of questions: How do people with disabilities experience the rapid digitalization of transportation systems? What challenges lie ahead for companies to make nature-based tourism truly accessible for all? What approaches are needed to create inclusive tourism infrastructure that allows for accessible tourism beyond mainstream tourism trails?
Program
Digitalization and Inclusion in Transportation
by Mònica Cerdán Chiscano
The literature on digitalization and accessibility changes to public transport in response to the COVID-19 pandemic is limited. To better understand this topic, we reported on the "urban public transport measures against Covid-19" launched by a Spanish transportation operator (TMB) to ensure safe journeys (Metro ride experience) where digitalization services have been intensified. This study responds to the current climate in which transport operators are quicky digitalizing their transportation services as a response to the COVID-19 pandemic. The digitalization experience can be stressful for people with disabilities (PwD) when navigating the transportation system. This perspective article highlights various urban digital and non-digital transportation-related experiences in encounters with PwD as a consequence of the COVID-19 pandemic. The aim of this study is to explore the digital and non-digital urban transportation experience of PwD using the value co-creation process approach, so as to assist transportation managers in designing improved experiences for this specific passenger segment.
Nature for all: Accessible nature-based tourism
by Kristin Godtman Kling and Dimitri Ioannides
Nature-based tourism businesses can play a major role in making tourism accessible for people with disabilities and offer opportunities to take part of health-promoting activities in the outdoors, but the familiarity with this consumer segment is in general very low. Although many nature-based tourism businesses have a strong will to develop their products to cater to the accessible tourism market, companies lack knowledge about how to reach the consumers, the wants and needs of the target group, what investments are required etc. This lack of knowledge inhibits the development of accessible tourism products and needs to be addressed to promote inclusiveness in nature-based tourism activities.
Accessible tourism in light of New Urban Tourism
by Veroniek Maat
10 years of experience developing accessible tourist experiences in European urban environments unfolds the insight that a transdisciplinary approach is required to create inclusive tourism infrastructures and systems. New Urban Tourism can loosely be described as 'tourism for the everyday urban life' in neighbourhoods or areas that are not (yet) on mainstream tourism trail (Koens, 2021). While accessible tourist experiences often take place on the mainstream tourism trails, it requires reinventing systems in order to make mainstream and future (tourism) trails inclusive for all. In order to design inclusive tourist experiences, a range of systems become intertwined and stakeholders are forced to change normalized thinking patterns.
If you would like to attend this seminar via Zoom or in-person at Can Jaumandreu in Barcelona (limited seats available), please register through the registration button on this page. After registration, you will receive the Zoom-link for this event. For more information, please contact Maartje Roelofsen at mroelofsen@uoc.edu
This event is held from 16:00 – 18:00 CEST (UTC+2). Compare to your local time here.
The seminar will be held in English, slide descriptions and translations in Spanish will be provided in the Zoom chat.
The seminar is sponsored by the International Geographical Union Tourism Commission (IGU) and is organised on behalf of the Faculty of Economics and Business and the NOUTUR research group at the Universitat Oberta de Catalunya, Spain.
(Visited 28 times, 1 visits today)