Interdisciplinarity
Smart Cities
Social impact
Sustainability
RESCITIES: the limits and potentials of Urban Resilience
25 November, 2019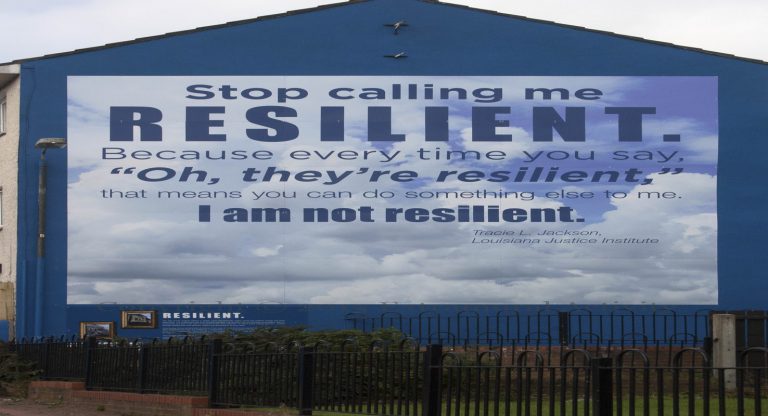 A new research project by TURBA that explores urban resilience to hydro-climatic events in Barcelona and Seville through the lenses of political ecology.
The resilient city paradigm has gained popularity among academic and policymakers circles in the past few years. However, there is a dearth of critical research understanding about the unexpected implications of top-down resilience plans, especially on the most vulnerable urban populations, as well as the transformative capabilities of bottom-up resilience strategies.
This is the focus of RESCITIES, The political ecology of urban resilience to hydro-climatic events in Spain. Lead by Turba's Hug March and Isabel Ruiz-Mallén, the team involves researchers from eight different universities (UOC, Universidad de Sevilla, Universitat Autònoma de Barcelona/ICREA, Universitat de Vic, Universidad Pablo de Olavide, Universitat Internacional de Catalunya, University of Manchester and University of Amsterdam).
RESCITIES team comes from different disciplinary backgrounds (geography, environmental studies, planning and architecture, economics, sociology and anthropology) and research focus (political ecology, participatory governance, urban governance, water management, adaptive management, social movements, etc.).
Funded by the Spanish Ministry of Science, Innovation and Universities, RESCITIES analyzes from a political ecology approach the urban resilience to hydro-climatic risks in Seville and Barcelona. The project will last until December 2021.
Through an urban political ecology lenses and considering existing literature in urban resilience, the RESCITIES project addresses the following research gaps:
the articulation of the resilient city with other urban paradigms,

the participatory governance of urban resilience development,

the uneven impact of urban resilience strategies and policies, and

the challenges of a multi-level articulation of urban resilience.
More specifically, the project aims to:
examine how urban resilience strategies and policies are connected discursively and in practice with other urban policies, such as climate change and smart cities policies;

analyze how urban resilience is articulated with socio-environmental strategies of management and transformation created with and by citizens;

analyze the impacts of the strategies and policies of urban resilience on vulnerable communities; and

explore the tensions and challenges of the design and implementation of urban resilience policies, in the context of multi-level hydro-climatic management policies, and particularly of the uneven distribution of benefits and risks for local communities.
To do so, the project focuses on the strategies to cope with droughts, floods, and heatwaves in Barcelona and Seville. The methodology is mainly based on qualitative data collection methods, particularly semi-structured interviews, workshops, and literature review.
RESCITIES kick-off meeting and progress
Last 17 and 18 of October there was the project kick-off meeting. In the event, the whole team met to discuss and reflect on current theoretical and practical debates on the political ecology of urban resilience and laid the ground for the coherent development of the two case studies. The central event of the meeting was the seminar Urban resilience: A 'private' immunological fantasy by Erik Swyngedouw, Professor of Geography at the University of Manchester and member of RESCITIES. This presentation gave rise to debates on the normativity of urban resilience approaches, the potential trade-offs of urban resilience measures and the implications of these approaches in terms of social and political equality.
RESCITIES is now making progress in the first tasks. They are focused on the review of both policy documents designed and implemented at multiple levels and community-based initiatives referred to urban resilience strategies and actions to deal with hydro-climatic risks in Seville and Barcelona. The policy documents are been analyzed taking into account
how policies and strategies are connected discursively and in practice with climate change and smart city policies and

how policies and strategies identify and characterize vulnerable communities and address their needs.
In turn, the team has identified by now more than 40 community-based initiatives on urban resilience to deal with droughts, floods and heatwaves. This analysis is paying particular attention to the connections with other initiatives and networks at supra-local levels, as well as to how these initiatives engage the most vulnerable communities. As a result, the project will produce a booklet to showcase the grassroots initiatives currently supporting urban resilience in both cities.
RESCITIES impact
Thus, through conducting an in-depth exploration and a comparative analysis of the urban resilience to hydro-climatic risks in Barcelona and Seville under the lenses of political ecology, RESCITIES will produce interdisciplinary cutting-edge knowledge that will contribute and guide academic debates and policy actions on urban planning and management to deal with resilience at local, regional, national and international level.
Beyond the production of academic articles in high impact international peer-reviewed journals, RESCITIES will be present in international networks on resilience by the endorsement and support of the Urban Resilience Research Network (UR-Net).
It is also expected that the RESCITIES team will nurture their teaching activities with the project results, thus translating the impact of the project to postgraduate students in the eight master programs that the members of the research team teach courses related to urban political ecology, urban sustainability, environmental justice or water management.
We also envisage that RESCITIES captures the attention of national and international scholars and policy-makers/institutions so we receive invitations to present our project as invited speakers for both academic and non-academic audiences, amplifying the impact of the project with no extra economic cost for the project budget.
In turn, the RESCITIES team expects that our project will have a direct socio-economic impact in the most vulnerable local communities to hydro-climatic risks in Barcelona and Seville by engaging them to think about strategies to improve their resilience to these risks.
It is also desirable to have an impact on policy-making in both cities (and metropolitan regions) by providing policy assessments of resilience strategies and outlining guidelines for future actions.
By the end of the project we will organize two workshops with key stakeholders in the two case studies to present and discuss the results at regional and local levels. The project also comprises the elaboration of a policy brief, that together with resulting booklets and reports will be disseminated through the projects website and social media.
The dissemination and exploitation plan will guide how to disseminate RESCITIES results to involved stakeholders and to a general audience by means of e.g., specialized press, social media, and websites. It will also contain detailed and regularly updated information about the selection of audience, appropriate message and medium to engage them.
(Visited 2 times, 1 visits today)