General
We are co-organizing a series to improve the education of the future with the IAU. Get involved!
01/06/2021
In a context of a profound transformation triggered by the pandemic, the UOC and the International Association of Universities (IAU) are co-organizing the IE4UF series to investigate the changes that need to be instigated in order to improve the education of the future.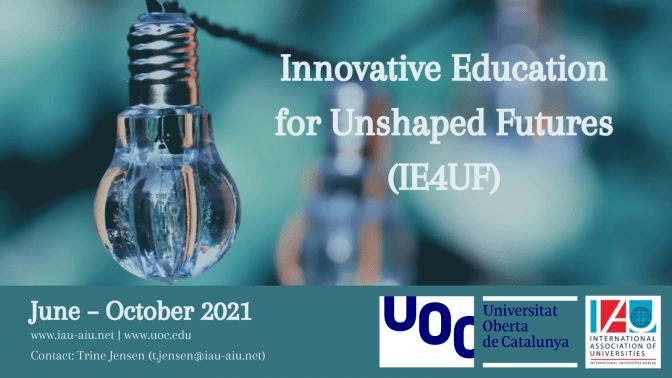 The series will offer six webinars curated by Albert Sangrà, director of the UNESCO Chair in Education and Technology for Social Change, Professor with the Faculty of Psychology and Educational Sciences and researcher in the Edul@b research group. The first will be on Thursday 10 June.
Have you signed up yet? Registration is still open!
10 June, at 1:00 p.m. (CEST)
Return to Campus: Making sense of (innovative) hybrid teaching and learning
Opening speech by Josep A. Planell, rector of the UOC. The inaugural session in the series will consider hybrid education aimed at innovation.
What are the latest trends and developments in blended learning? What potential do they have? Albert Sangrà will be talking to Liz Johnson, Deputy Vice-Chancellor for Education at Deakin University (Australia).
The talk will be chaired by Trine Jensen, Head of Higher Education and Digital Transformation at the IAU.
On the day after each session, there will be a debate or policy dialogue open to the public (with a limit of 30 people).
11 June, at 2:30 p.m. (CEST)
Subsequent dialogue session
Register here.
Check the full programme and don't miss a single one!
(Visited 2 times, 1 visits today)