Agenda
HOME
The Limits of What is Possible: Research in Art and Science.
7 de junio de 2021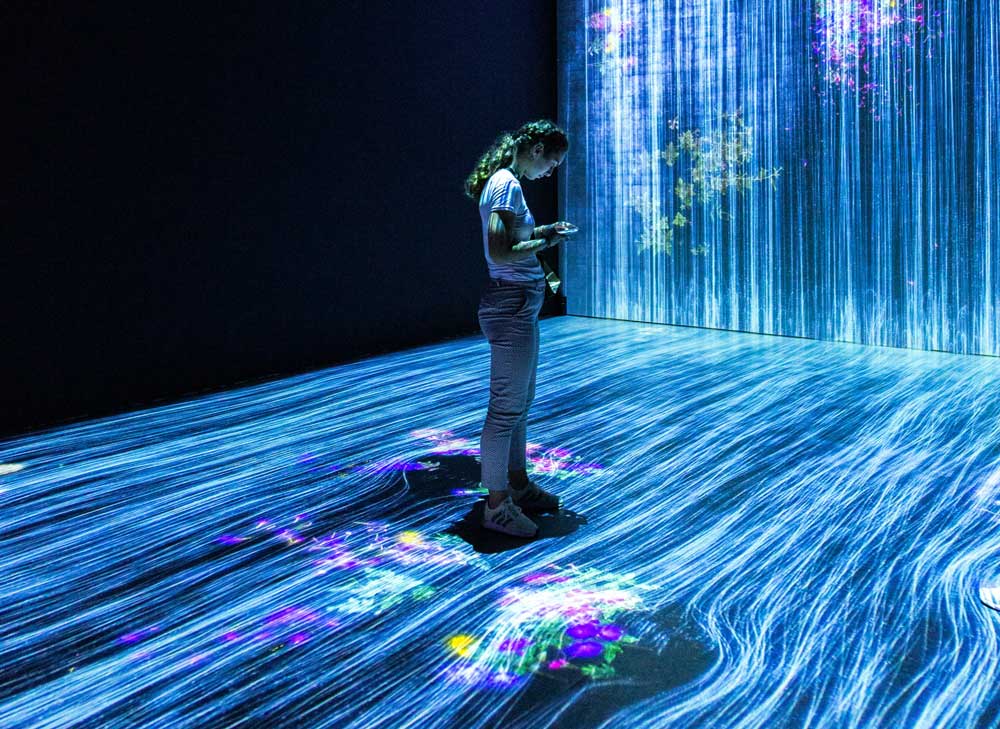 43-limits-possibles
The ISEA2022 Pre-conference Event will be held on June 10th at 16h (CEST) coinciding with the celebration of the second City and Science Biennial in Barcelona. You can follow it via streaming clicking here.
When we talk about the intersections between art, science, technology and society, we are talking about a series of practices that often challenge the boundaries of disciplines, exploring the borderlands between the possible and the impossible, between the real and the imaginary. Sometimes multi-disciplinary, other times inter-disciplinary or trans-disciplinary, and often just a-disciplinary, they inhabit a grey area where the enduring make-up of knowledge is at play. Next year's International Symposium of Electronic Arts (ISEA) on the theme of 'Possibles' is to take place in Barcelona and this year's online pre-ISEA symposium will include presentations from artists, scientists and technologists from around the world who are working on the limits of what is possible. They are blending disciplines, artistic practices linked to science and technology, and scientific and technological developments inspired by the arts. They will show us their creations, the ideas they have garnered, the innovations they have developed, the reflections they have made, and, above all, the complex challenges they face. In short, they will all look at closing off limits and opening up 'possibles'.
Schedule
Speakers
Pau Alsina (Barcelona). Coordinator of Hac Te. PhD in Philosophy and director of the interdisciplinary group of Arts, Science and Society research (DARTS). Adjunct professor at the Faculty of Arts and Humanities (Open University Of Catalonia) and in the Master Degree of Digital Art Curator (ESDI). Author of some books, chapters and articles about intersections between philosophy, science and technology. Since 2001 directs the academic journal Artnodes, dedicated to artistic investigation linked with science and technologies, and is co-founder of the international network YASMIN launched by Leonardo / ISART. Recently appointed member of the executive committee of the Council of Culture of Barcelona. Has chaired congresses (Arts Matters, Interface Politics), juried exhibitions and activities (Ars Electronica Garden, Cultures of Change, Sinergia), advised public and private institutions (FECYT, Barcelona City, Carasso Foundation, BBVA, NAF) about the relation between arts and science. Currently prepares Neo programme in Cosmocaixa for 2021 and directs the International Symposium of Electronic Arts (ISEA) to be held in Barcelona in 2022.
Pau Waelder (Barcelona). Curator, writer and researcher specialized in art and digital media. PhD in Information and Knowledge Society from the Universitat Oberta de Catalunya (UOC). Adjunct lecturer at the UOC, as well as in postgraduate courses at ESDi and NODE Centre for Curatorial Studies. His work explores the different aspects of the interaction between art, technology and society, as well as the relationship between digital art and the art market. He is the author of the book on contemporary and digital art collecting You Can Be A Wealthy/ Cash-Strapped Art Collector In The Digital Age (Printer Fault Press, 2020).
Vanina Hofman (Barcelona). Researcher, teacher and cultural producer. Currently, she is Lecturer at the Department of History and Art History at the Rovira i Virgili University. Her work focuses on archiving and preservation of contemporary arts, the construction of unconventional histories, the archaeology of media and the digital materialities. She has published the book "Divergent practices for the preservation of media art. Remembering and forgetting in digital culture awarded by Investiga-Cultura. She has also published articles in journals such as Artnodes Journal on Art, Science and Technology; Acoustic Space; Icono14 or InCirculation . She has presented her research at several international conferences. She is a member of the Mediaccions research group of the Open University of Catalonia and she actively collaborates with DARTS (Design, Art, Technoscience and Society). Between 2006 and 2020 she ran the independent research-creation platform Taxonomedia.
Jaime Del Val (Madrid)
José Luís Arroyo (Madrid). PhD in Philological Studies (Universidad de Sevilla), PhD in Economics and Business Administration (Universidad Complutense) and PhD in Engineering (Universidad Politécnica de Madrid). He is currently professor at the Universidad Pontificia Comillas.
Paula Fernández (Valencia). Graduate in Conservation and Restoration of Cultural Heritage from the Complutense University of Madrid and Master in Conservation and Restoration of Cultural Heritage (2017-2019) from the Universitat Politècnica de València. She is currently pursuing a PhD in Art: Production and Research with a Predoctoral Grant (FPI-UPV) at the same University and is part of the MICIU I+D+i EShID Project. Her research focuses on the preservation of technological art and copyright.
Ada Xiahoyu Hao (b. 1993) is a performance artist-researcher whose practice engages fiction, semi-graphical inquiries, multimedia technology and philosophy with performance. She currently focuses on creating a theoretical framework that uses performance as the main methodological formulation to develop a series of processual, participatory and intersubjective engagements with the immanent possibility of being and becoming through role-playing. Probing the boundaries between fact and fiction while playing with the ambiguous relationship between the documentation and the performance as the common thread in her practice, she suggests a speculative envisaging of the concept of the self in a post-humanistic vision that challenges our perception of becoming, adaption, and sustainability. Adopting Michel Foucault's proposition of 'heterotopia' as the conceptual backdrop for her phantasmagorical mise-en-scéne of a series of self-referential fictional characters, along with the situational encounters with the spectators, she investigates the threshold of becoming that dissolves notions of the self and the mode of being that encompasses both affirmative empowerment of differences and reactive proliferation of differences. She is currently finishing a practice-based Ph.D. in Doctoral School of Art & Communication, at University of Brighton, titled: A Production of Multiple Becomings of Subjectivities Through Performance Art Practice – Performativity, Intersectionality, and Subjectivity in Performance Art Practice.
Andrés Burbano (Bogota). Andrés Burbano is Associate Professor in the Department of Design at Universidad de los Andes, in Bogota, Colombia. Burbano holds a PhD in Media Arts and Technology from the University of California Santa Barbara, and is visiting professor at the Danube University in Krems, Austria and at the Potsdam University of Applied Sciences, Germany. «Burbano, originally from Colombia, explores the interactions of science, art and technology in various capacities: as a researcher, as an individual artist and in collaborations with other artists and designers. Burbano's work ranges from documentary video (in both science and art), sound and telecommunication art to the exploration of algorithmic cinematic narratives. The broad spectrum of his work illustrates the importance, indeed the prevalence, of interdisciplinary collaborative work in the field of digital art.»
Carolina Fernández-Castrillo(Venice). Research Fellow at the Venice Centre for Digital and Public Humanities (Università Ca' Foscari Venezia) and Associate Researcher since 2009 at ZKM | Center for Art and Media Karlsruhe. She carries out her teaching and research activities in Cyberculture and Digital Innovation at Carlos III University of Madrid. Fernández-Castrillo has a wide international experience as theoretician in Media Art and Media Archaeology. She is currently the PI of the research project "Digital Media Culture: Intercreativity and Public Engagement" in Venice (VeDPH).
José María de Luelmo (Valencia)
Paloma González (Barcelona). As a teacher and researcher, she has developed and implemented new development methodologies in creative and educational interactive projects, both for private companies and public organizations. Always integrating her training and experience in technology, design, arts and communication. She is a lecturer at the UOC's Faculty of Computer Science, Multimedia and Telecommunications, and teaches Audiovisual Culture at BAU (University Design Centre), and Experimental Languages on the Bachelor's Degree in Arts at the Escola Massana. She is a member of the GREDITS research group (Research Group on Design and Social Transformation). Her thesis «Prácticas artísticas digitales y tecnologías del control y vigilancia (2001-2010)» (UB) shows her interest in the evolution of digital creation, interaction and power relationships established through technology. Since 2007, she publishes the blog specialized in media art, surveillance and privacy Uncovering Ctrl, which forms part of the Spanish Media Art Archive AEMA/SAOMA. She has participated in events related to digital culture such as Interface Politics Conference (2016/2018), bodies_perceptions_design (2018), or the International Congress NODOS del Conocimiento 2020 (2020); in conferences, congresses and symposiums in LABoral Centro de Arte y Creación Industrial, Museu del Disseny de Barcelona, the University of Málaga, or the Universidad Autónoma de Diseño de Morelos (Mexico). She has coordinated and managed several events and exhibitions on media art and is co-editor of Artnodes nº28 (2021).
Predrag Nikolic (Shanghai). Dr Predrag K. Nikolic is Associate Professor and Principal Investigator at ShanghaiTech University, Adjunct Professor at College For Creative Studies, and Full Professor at Educons University. He is an interactive media designer, digital media expert, and media artist who holds a PhD in Digital Media from Belgrade University of Arts and an MBA from Cardiff Metropolitan University. His experimental works and research focus on Intelligent Interfaces, Robot Creativity, AI aesthetics, AI abstraction, and Design for Behavioral Changes. He mixes artificial intelligence reality (AI.R) and multisensory responsive environments to engage users in new interactive experiences and digital media perceptions. His artworks and research, such as Botorikko Machine Created State, Robosophy Philosophy, MindCatcher, InnerBody, Ciklosol, Before & Beyond, Vrroom, Digital Lolipop, In_Visible Island, were exhibited worldwide and presented at Ars Electronica, SIGGRAPH, SIGGRAPH Asia, ACM SIGGRAPH Sparks, Technarte USA, Technarte Spain, Singapore Science Center, Hong Kong – Shenzhen Design Biennial, Maison Shanghai, National Museum of Applied Art in Belgrade, National Museum of Education in Belgrade. Professor Nikolic has published numerous research papers, lectures at universities, and giving speeches at international conferences. He is Editor-In-Chief for EAI Endorsed Transactions on Creative Technologies Journal and European Alliance for Innovation (EAI) Fellow.
(Visited 1 times, 1 visits today)