Posts in English
Dude Food
25 de enero de 2017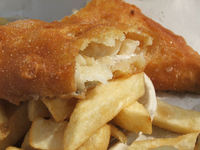 A new word came into the English vocabulary in 2016: "dude food". Dude food means "food for the boys". It's the kind of food you associate with what a group of friends (usually male) who meet up to watch a football match on TV would choose. Examples could be
hamburgers with lots of ketchup and heaps of onions or pizza with extra toppings of cheese, all washed down with a few beers.
When you think about it, though, dude food that both men and women alike have enjoyed has been with us for a long time. The quintessential dude food in the UK must surely be fish and chips, just as mussels and chips are in Belgium. The British tradition of fish and chips is said to be a combination of two culinary traditions; fried potatoes came from French cuisine and fried fish was a Yiddish (Jewish) tradition. The Jewish community settled in the east end of London in the late 1800s and it is said that the first shop to sell the dish was run by a Jewish family. By the early 1900s the combination of fish and potatoes cooked in this way was a very popular dish.
If you go to the local chippie (fish and chip restaurant) and take away your meal, you'll find they'll often wrap it in paper for you (they used to use newspaper). Before you leave the chippie don't forget to add salt and the traditional drops of vinegar to your chips to give them that extra flavour.
I wonder, what you would consider to be typical Spanish, French or German dude food?
(Visited 33 times, 1 visits today)