General
Do you want to win a vacuum flask? Take the Setmana sense Fum survey!
29/04/2021
Under the slogan Deixar de fumar, la teva altra vacuna (Stop smoking, your other vaccination), this year from May 25 to 31 we will hold the 22nd Setmana sense Fum (Smoke-free Week). Pay attention because we'll soon be announcing all the details of the scheduled activities!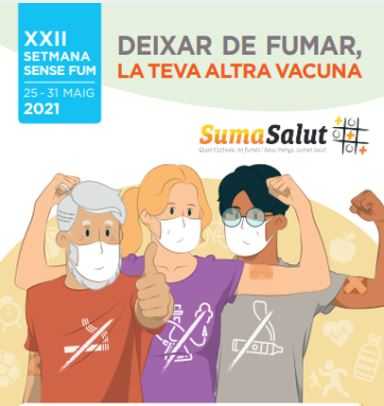 But now we're inviting you to take part in a pre-event survey to determine the general public's smoking habits and their opinions about smoking in today's world.
Take the survey by May 5 – it'll only take you 2 minutes – and you'll enter a prize draw to win a vacuum flask with a ceramic inner coating that is BPA-free and extremely light and robust!
On 31 May, the last day of this year's Setmana sense Fum, the names of the winners will be published on the event website in the Enquesta (Survey) section.
The Setmana sense Fum aims to raise people's awareness of how important it is for our health to not start smoking, quit smoking and enjoy an environment free of both smoke and the waste this habit leaves in its wake.
(Visited 1 times, 1 visits today)