General
A year of the pandemic and teleworking at the UOC
18/03/2021
This month marks one year since it all began: the Spanish Government declared a state of emergency on 14 March, confirming that the looming COVID-19 health crisis was a very present reality.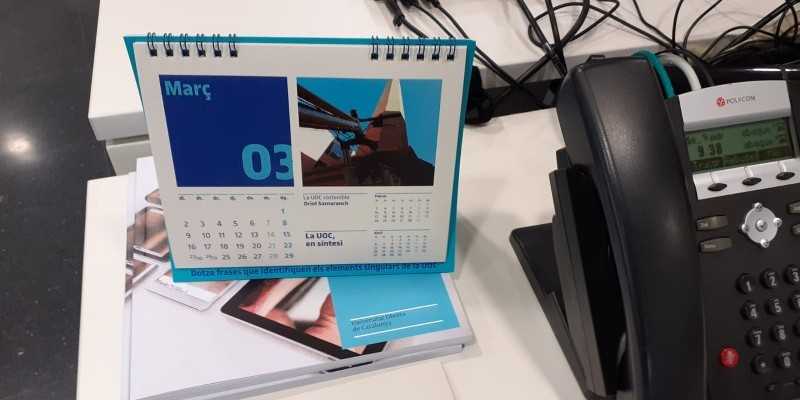 The future was blurry, but that did not stop the UOC from making the resolute decision to ensure the health and safety of its staff. Thus, in an effort to minimize the risk of contagion, we all began to telework for the full working day, every day of the week.
And so it was that the first lockdown brought along a new way of working: at home with the family. Director of Personnel José Miguel de la Dehesa pointed out that "no one taught us how to telework during a pandemic; it was an entirely extraordinary situation that meant putting out more than a few fires. I want to personally thank everyone who works at the UOC for the effort and commitment they have shown. Thank you for your dedication".
The lockdown had other by-products, namely risks with the potential to harm people's well-being. In response, the psychological support service was reactivated (and is now being tendered out); the medical service was adapted so that it could be offered by telephone; and the physiotherapy service continued online, although in-person appointments are now available too.

The at-home workplace
To stay on top of the wholly unconventional way of working, the UOC upped its budget for technological support three times, reaching a total of €80,550. De la Dehesa said: "Amidst everything, many people were working in not-so-suitable conditions, so our priority was to handle any unexpected needs brought on by the exceptional, pandemic-driven situation." Accordingly, the UOC activated a new protocol for loaning out equipment, giving staff access to monitors, computers, chairs and other essential items.
Indeed, the exceptional situation called for exceptional measures, which is why the UOC launched its PulseCOVID survey, the aim of which was to find out how people from the in-house team were coping and ask for their feedback on how the UOC was handling everything. The survey results did not go unheard and the University quickly sprang into action. The training sessions on e-working tools and personal organization, for instance, came in response to the in-house team's need for teleworking tools during COVID-19 lockdowns, helping to make their day-to-day a bit more headache-free.
The UOC's Leadership Motivation Programme (PID) was also refocused to equip managers with tools, resources and good practices for remotely and asynchronously overseeing their teams. The aim was to strengthen online collaboration through technology and identify opportunities for creating moments where teams could reconnect, share knowledge and keep from feeling isolated.
Health Week was also reshaped this year, taking place for the first time from home, and focused on teleworking. We needed to come together for something other than a work meeting, to find moments to catch up with colleagues, even if it meant through a screen, and, to boot, take care of ourselves.
Despite the pandemic, thanks to the UOC model not only were we able to carry on with our business, but we also continued growing. In fact, 45 new people were brought on this year with either a long-term or structured contract. According to de la Dehesa, new hires have not been able to meet their teams in person or even step foot in a UOC building, so "it is essential that we welcome them differently than we're used to, which is why we are working to update the induction process to bring it into line with current and future needs, especially considering that we are headed towards a more hybrid, more online organization of work". He concluded by saying, "The aim is to design a new journey that fits the needs of the various groups comprising the UOC, which have different welcome needs during onboarding".
Fortunately we are at a much better place than we were a year ago; the pandemic has fast-tracked processes and in the not-so-distant future we will be able to #WorkDifferently.

A different way of working
The New Way of Working project is ambitious and wide-scale. Besides boosting performance, becoming a fully online university will allow us to be more sustainable, healthier, more competitive and more global; to better attract, retain and promote talent; to be more flexible and adaptable to change; and to position ourselves as leaders.
According to President Josep A. Planell, "it represents a major cultural shift that will bring about substantial organizational change, probably the most substantial organizational change since the UOC came to be, because it implies rethinking or adapting our processes, organizational structures and leadership".
(Visited 6 times, 1 visits today)