Archivo China-España
Guest post at Visualising China
2020-06-25
The visual repository Historical Photographs of China (HPC), led by Prof. Robert Bickers at University of Bristol, has been an inspiration to many who take part in the academic interest for early photography from China. We certainly had it in mind when planning our research projects on Sino-Spanish interactions. At that moment, we invited prof. Bickers to Barcelona to learn about his experience and to discuss some of the challenges posited by the foreign presence in China's 19th and early 20th centuries.
It has been a pleasure to receive an invitation from Dr. Helena Lopes, currently Senior Research Associate at Bristol and involved in the HPC project, to collaborate in HPC blog, Visualising China.
ALTER member Xavier Ortells-Nicolau has contibuted "Spaniards in the treaty ports: Archivo China-España and Juan Mencarini", summarising ALTER's research and some of its major outcomes, and combining photographs from HPC and from ALTER's visual archive, the Archivo China-España.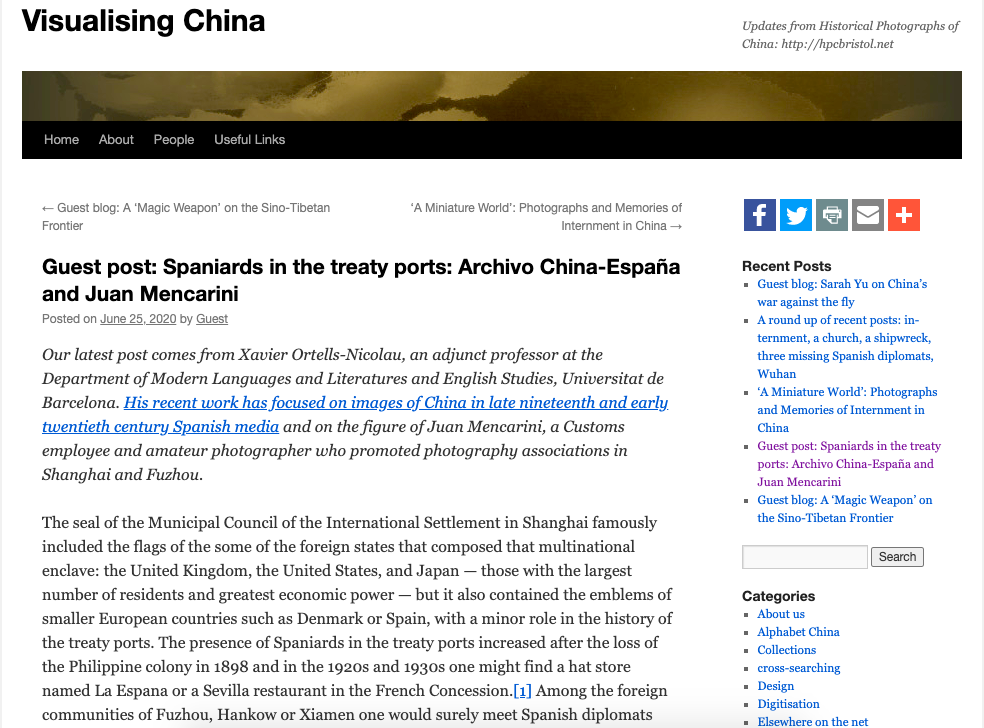 Ortells-Nicolau also discusses the figure of Juan Mencarini, a Customs Service employee, philatelist and photography aficionado whose life and works he has explored in "Juan Mencarini and Amateur Photography in Fin-de-siècle China".
(Visited 4 times, 1 visits today)