Sin categoría
Presentació de resultats a la International Association for Media and Communication Research (IAMCR)
14 julio, 2019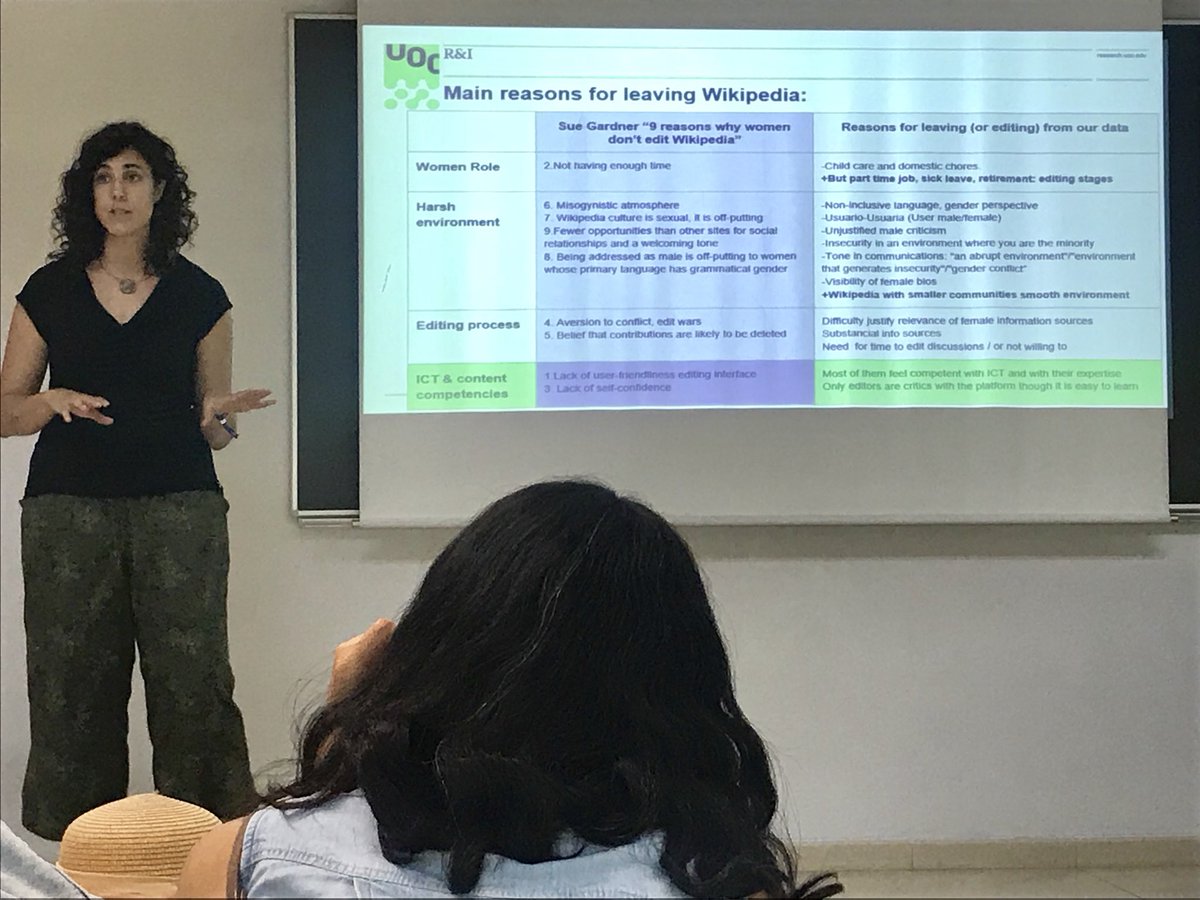 En el marc del congrés de la International Association for Media and Communication Research (IAMCR) celebrat a la Facultad de Ciencias de la Información de la Universidad Complutense de Madrid, el grup WAWW ha presentat els resultats preliminars de la recerca d'aproximació qualitativa.
La investigació quantitativa va aportar com a principal conclusió que a la Wikipedia en castellà només hi ha un 10% de dones editores. També va proporcionar una mostra d'usuàries per poder entrevistar i arribar a entendre els motius del biaix de gènere.
Es va procedir a realitzar entrevistes en profunditat a diferents editores i ex-editores per descobrir perquè deixaven d'editar, quines experiències havien tingut, el seu posicionament davant del feminisme, els seus sentiments relacionat amb el procés d'edició, etc.
La comunicació presenta aquests resultats relacionat-los amb les aportacions de Sue Gardner, que va ser directora executiva de la Wikimedia Foundation i es va començar a preocupar per la poca presència de dones editores. Entre les conclusions aportades, en destaca la dificultat per fonamentar els continguts en fonts d'informació externes (àmbit científic o mediàtic) quan es parla de biografies de dones, per exemple. En relació als continguts, se'n critica la no-inclusió d'un llenguatge neutre o la manca de perspectiva de gènere. Tampoc es valora positivament el to de les comunicacions rebudes.
En la comunicació presentada a l'IAMCR es proposen unes recomanacions inicials relacionades amb el paper de les Editatones, que d'una banda són porta d'entrada a la majoria de dones entrevistades però són el principal motiu d'abandonament de Wikipedia quan finalitzen i les participants no troben el relleu o fil conductor per continuar editant. Es planteja la necessitat de dotar de més autonomia a les participants o d'intentar simular l'entorn sociable que ofereixen les Editatones.
També entre les recomanacions es fa una crida a l'esfera pública (mitjans de comunicació, universitats, etc.) per tal que promocionen continguts i pràctiques des d'una perspectiva de gènere.
La comunicació pot consultar-se a:
Ferran-Ferrer, N.; Castellano, P.; Meneses, J.; Minguillón, J.; Fàbregues, S.; Aibar, E. (2019). Why do female editors leave Wikipedia? A qualitative analysis of gender bias in the Spanish Wikipedia, International Association for Media and Communication Research (IAMCR), Universidad Complutense de Madrid, 7-11 de Julio

Abstract:
Why do female editors leave Wikipedia? A qualitative analysis of gender bias in the Spanish Wikipedia
Wikipedia began in 2001 and already reaches more than 40 million articles in more than 300 languages. It is the main source of information for many users, especially in the educational field, where seven out of ten students recognize using Wikipedia. But even though Wikipedia promotes the 'neutral point of view' in its articles, it is well recognized that there is a gender bias, both in content (for example, in the number of articles on women in relation to those of men) in your community (the vast majority of registered publishers are men). The general feeling is that the Wikimedia Foundation has not achieved its goal of increasing the number of female participants to the 25% that was proposed for 2015.
Faced with this gender bias, we are investigating from a double perspective, on the one hand quantitative, analyzing the presence or absence of women and their behavior from the activity records associated with their profiles and, from a qualitative approach, studying the practices related to content production (creation and edition of articles) in the Wikipedia in Spanish. The results of qualitative research are presented in this communication. A content analysis of 12 interviews with publishers (4) and ex-editors (4 short-term editors and 4 long-term publishers) was carried out to investigate the reasons that led them to participate as publishers in Wikipedia and to non-persistence of activity in the same, examining the reasons raised according to their socio-demographic, educational context, in experiences of their work as editors, feelings and positioning in relation to feminism and their status as women.
Among the main results is that all ex-editors who have edited for a short period of time began to do so as a group, with a common project and with collective support and left the edition once the campaign ended. In all cases in which women acknowledge having abandoned the edition, the reason is related to a bad experience caused by «an abrupt environment», an «environment that generates insecurity» and, in one case, by «gender conflict». In the case of women who have continued to publish, all of them, among their themes, are content to make women visible, usually through biographies.
Among the conclusions, interpersonal communication is associated with the continuity of women to edit in Wikipedia, through collective experiences of editing; in the friendliness of the discussions, comments on user pages or justification of corrections.
(Visited 1 times, 1 visits today)